Today we climbed aboard Bear for the first time since September and began to make a dent in our lengthy list of repairs and delayed maintenance projects. While I worked on the list below, Jeff tackled a bunch of other jobs. Though we are both self-sufficient workers, it is always nice to have each other close by when you need a second opinion or a helping hand. I enjoy the time that we work through maintenance issues on the boat together. We both learn a lot and equally delight in conquering technical and mechanical problems.

Day One Goals For Margaret:
1. Replace shower head – This ended up being the easiest task I did all day. The shower head fit on the existing hose, so I simply unscrewed the old one, took out the old washer, inserted the new one, and twisted the new head in place. I cannot wait to try this bad boy out next summer!
2. Polish or replace head door knob – The door handle to the head is functional, though terribly corroded, both inside and out. Jeff suggested that I give it a buff with some metal polish before investing in a new handle. After about 10 minutes of buffing, I threw in the towel. Now I am looking for new stainless steel fixture. Any suggestions?
3. Polish or replace head sink faucet – As with the door handle, the head faucet is in pretty bad shape. While it shined up nicely with the polish, it is deeply pitted, and I am not a fan of the plastic handles. I would like to update the faucet, though if we are going to go through the hassle of replacing it, I decided I would like to resurface the counter, and perhaps paint the walls too. This project may need to wait until we are on board next summer.
4. Build shelf in v-berth storage area – Under the v-berth, where we sleep, is a ton of space that is totally under-utilized. On the port side there is a large open space that we would love to use to our storm sail or other non-essential gear. However, we can't store anything in this space currently because it houses our washdown pump. I made plans today to fit this space with a shelf that will reside 4″ above the pump, leaving us plenty of room in case we need to replace this pump with a large size in the future.
5. Create pattern of salon cushions – As you may know from our previous posts, I am planning to redo all of the cushions on the boat this spring, starting with the cockpit. While the salon cushions are the lowest on list of sewing projects, I wanted to take measurements and make patterns while we are on Bear, with the hope that I can get these done before next summer.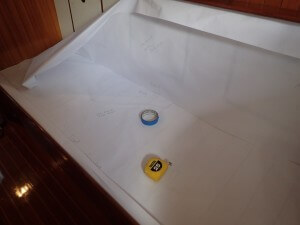 6. Install CO2 – fire detector – We finally agreed to a place to install the CO2 detector under the rail, in the bookshelf area, of our navigation station. Unfortunately, our drill batteries were not charged, so this will be added to the list for tomorrow.
7. Install 2nd fire extinguisher – We made sure we were USCG compliant last season, with all of the appropriate safety gear, including fire extinguishers aboard. However, we ran into a snag trying to install the extinguisher on the salon table, as our screwdrivers nor drill would fit in the space in between the table and the mast. To solve this problem, we picked up a set of stubby screwdrivers while we were in Florida, and I was able to successfully, and easily, complete this project today.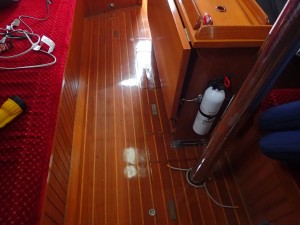 You can also check out our video of the day's work here.