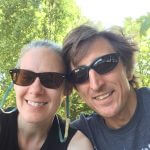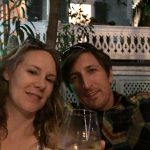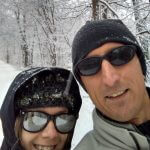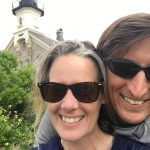 Who We Are:
Margaret dreams of traveling the world and sharing her adventures through the pauses her photographs create. Her work, both as an academic and as a fine art photographer, has taken her across the country and overseas on numerous occasions. She is new to sailing and looking forward to getting her sea legs!
Jeff grew up spending summers on the water at the Jersey Shore, sailing along with surfing, washing dishes, and generally having a lot of fun. To make it through the winters he would read Joshua Slocum and John MacDonald and dream of sailing the world and living on a boat. He is still reading and dreaming, but is also an academic who specializes in nineteenth-century American environmental and cultural history.
More about both of us will surely emerge on the blog.
Our Plan:
We hope to fill out our cruising funds over the next 3-5 years before buying a boat and refitting it in time for a sabbatical year of cruising. From there, our plans are a bit murkier.
Return to Seasons:
Driving from Florida to Louisiana in December 2012, we were discussing our desire to go cruising, trying to articulate at a grander lever why we wanted to do it. After a while, we put that conversation aside and Jeff started reading aloud, as we often do when we have some time together. Finishing "10 Timeframes" by Paul Ford, we started talking about the nature of time and how we interact with our world. We concluded that though we love many things about being connected to the internet, of working hard every day doing things we are passionate about, and of feeling like our lives are full of interesting ideas, we long for a more original connection to the world around us, the time and mental space to develop deeper relationships with people and places, and the challenges of learning, and living, whole new skill-sets. Although we were not talking about joining a commune in Vermont and dealing only in seasonal units of time, as one person who Ford referenced in his article did, that idea of returning to a seasonal relationship encapsulated some of the changes we were seeking: a different pace, a connection with the natural world, a fuller sense of community, a holistic existence. Since then, a "return to seasons" continues to resonate, serving as a synoptic touchstone for our dreams.
Why Blog:
While we started this blog for a host of reasons, two factors seem more significant. First, we are, by nature and training, thoughtful and expressive individuals who value working through ideas in word and image. Thus, for us blogging will be a means of processing and learning, as well as sharing. Second, just as we continue to learn and draw inspiration from other cruisers who share their experiences and knowledge through blogs, videos, books, and talks, we hope to do the same here. We imagine that blogging so early in the process – not just at the point of boat shopping or refitting, but that of dreaming and saving – will offer insights and inspiration for those who are going down the same path. Similarly, we hope the blog will allow us to learn even more from others who have managed to get out on the water and those who are in a similar place in their journey as we are.