What would you do if you had 2 days in NYC? That was the question at hand as we grabbed a mooring at the 79th Street Boat Basin in the Hudson. While we had hoped to spend a week in NYC, weather and boat repairs held us up in the Long Island Sound, and we were now faced with having to cram our sightseeing into a mere 48 hours. With our outboard engine out of commission and the strong currents in the river, we were also facing some challenges getting to shore. We had to time our trips to and from the boat based on the tides. Despite these issues, there aren't many better places than Manhattan to spend an entire day milling about, people watching, and taking in the sights.

On our first day ashore, we brought the inflatable dingy to the dock and put it together in a jiffy. Apparently, Jeff has had some issues putting the dink together in the past, but we had no problems, which was a good thing, as we had an audience of gawkers on the nearby walking path.
We spent the first morning tracking down parts for the outboard, first taking the subway down to the West Marine, where we realized, yet again, that this is often not the place to go if you need something more important than a t-shirt.
Instead of taking the train back up the island, we decided to meander our way up to Bryant Park, stopping at a fabulous gluten-free bakery on the way. It was a treat to sit outside, in a beautiful setting, and use the public internet to get some of our online grading done.
Bryant Park is located directly behind the NY Public Library, so we went inside for a bit to get some relief from the sun and check out the architecture.
On our way up the island, we took in all of the typical tourist stops, including St. Patrick's Cathedral, Rockefeller Center, FAO Schwartz, and the Apple Store.
Along the way we passed the MET. Boy, was it hard for me to not run up the steps and get lost for hours inside those lovely walls.
Our trek uptown ended at the Guggenheim. We took the elevator to the top of this awesome Frank Lloyd Wright building and meandered down the spiral interior viewing Italian Futurism (think Giacomo Balla, Dynamism of a Dog on a Leash or Umberto Boccioni, Unique Forms of Continuity in Space) and Contemporary Latin American Art. Both were great shows, though the Latin American Art was really inspirational and thought-provoking.
After a long day on the island, we headed back across Central Park to the Boat Basin for a rocky night on the mooring.
The next morning we rowed to the dock again and headed directly to G-Free, a gluten-free grocer about 10 blocks away. I was in heaven! This place made me realize what I am missing in terms of gf groceries, in Peoria. They had specialty pastas, including a variety of raviolis, bagels, and fresh baked goods. After I drooled for a while, I selected a lemon pound cake for breakfast, and we wandered back down to Bryant Park and the library, for more online work.
That afternoon we walked through Time Square and went to the International Center of Photography.
ICP had two great exhibits, one on Latin American Photography, and a solo exhibition by Brazilian photographer, Caio Reisewitz.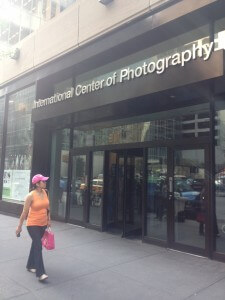 We ended the day at the Boat Basin Cafe, where we met up with Jeff's cousin, Melanie, and one of my friends from grad school at SU. It was great to see them both, and especially awesome to have Vicki see us off in the morning. Thanks, Vicki!