When we started to plan our summer travels, the 79th Street Boat Basin was one of the places that we quickly decided to stop at. In the heart of Manhattan, it would provide us with a temporary home while we enjoyed New York City. We had seen comments that the wake and current were strong and that the facilities were not that great, but we also knew of a few folks who had really enjoyed their time at the boat basin. Besides, with moorings at thirty dollars a night, it did seem hard to beat.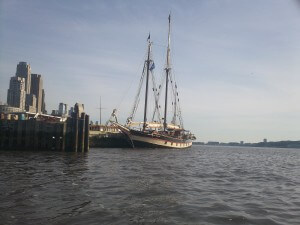 Because of some issues with our new-to-us boat and the tides in the East River, we had spent a little more time in Long Island Sound than we anticipated. Still, we hoped to spend a week at 79th Street. At the same time, with a party we had to get to in a few weeks in Annapolis, we were feeling the time crunch a bit. So, we planned to watch the winds and weather off the Jersey coast and leave a little sooner if a weather window appeared.
We dropped down the East River from City Island on a Sunday in June and took a mooring at the 79th Street Boat Basin. There were two or three other moored transient boats, but there were still a half dozen or so available moorings, which is apparently typical outside of holidays and summer weekends.
The current on the Hudson was ripping out, making the boat roil, but it also made it easy for us to row to shore since our outboard was not working. Heading in, it became apparent that the docks were in total disrepair, supposedly from Hurricane Sandy nearly two years previous. After tying up the dinghy, we found the single employee on duty friendly, though he did not tell us anything about the facilities. Upon questioning him, we found out that was because there really were no facilities. The restrooms, showers, and laundry were under renovation (and it actually looked like they should be ready by July 2014), which was definitely a bummer. I would call ahead to make sure these are available, if only so you are not disappointed upon arriving. The much vaunted – on their website – security consisted of a supposedly locked gate with a buzzer to get in, but we never found the gate locked.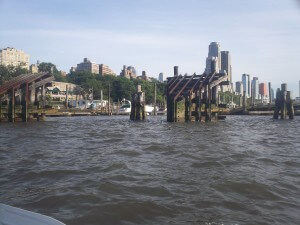 Upon walking out of the marina, we discovered the two main draws, besides the price, of the place. First is the Boat Basin Café, which is a casual bar and grill looming over and just across the walking path from the marina in Riverside Park. The café is in a great older public building with sweeping views of the Hudson from a large patio with umbrella-ed tables and a cooler, open-air section inside the building. The bar food was good and reasonably priced and they had a nice alcohol selection, including some craft beers and dark and stormies. We spent some time at the establishment during our stay watching World Cup matches and meeting up with friends from across the city.
The second thing that instantly became apparent when we left the marina was our proximity to the city. Just two blocks up the street we had access to groceries, bars and restaurants, dry cleaners, and just about anything else we could need. A block further was the subway station, and just a few beyond that was Central Park. During our stay, we took full advantage of the easy access to the city, spending mornings in Bryant Park on the free wifi and afternoons going to museums.
Unfortunately, in some ways, our stay at the boat basin was cut short after three days when we decided to take advantage of a nice two-day light northerly that was forecasted for the coast. I say in some ways because the 79th Street Boat Basin turned out to be incredibly rolly. The wake from the boats was one thing, and bad enough at times, but the real problem was the Hudson River currents. Regardless of whether they were ebbing or flooding, the waters churned around the boat, rocking us constantly except for about thirty minutes on either side of a current change. On our last night it was so bad that both of us were more or less awake from about 4 am on. On other nights, we would be awaken by the mooring ball banging into the hull when the wind and current were at odds. Even though we spent nearly all our waking time off the boat, I am not sure either of us could have endured another couple days of feeling like we were sleeping in a washing machine.