Eating lunch at my desk yesterday, I googled two-cabin, bluewater boats. Currently, this is our preferred cabin layout, as it would allow us to comfortably accommodate visitors. We have come across a few different models with this arrangement (e.g. Passport 42, Caliber 40 LRC), but have yet to identify and investigate all the possible yachts in this category. As I slowly added a few additional boats to our list, I decided to peek again at Yachtworld's listings for Valiant 40s, a well-regarded cruiser that is high on our list. Immediately, a new listing in the Azores, at 50,000 dollars, caught my attention. With only a single outdated picture and the scant text that indicated it "is in cruising condition, ready to continue" voyaging. Emailing the listing to Margaret, I put aside my lunch and prepped for class, but not before filling in the details missing from the advertisement. I imagined the boat's perfect condition, its long list of new, desirable gear, and its recently overhauled rigging, well-tended sails, finely maintained engine, and sound hull.

Margaret must have been taken with the boat too, because over dinner she brought it up asking if maybe we should email the broker for additional information and photos. Suddenly we were entertaining possibilities. What if we bought the boat, sailed her back in the early summer, and then hauled her out in Florida, Oriental, or the Chesapeake? We could work on her as needed and sail the East Coast during our summers. We would get a fine boat, and be ready to cut the dock lines at the start of Margaret's sabbatical, rather than spending months of that precious time refitting a newly purchased vessel. Sure, storage and hauling would cost some money, but what was that compared to the amount we would save purchasing this perfect boat at such a great price?
Moments later we had begun planning the trip back from the Azores. Margaret is taking students to Italy at the end of the school year, so we figured our departure date would be late in May. Of course, hurricane season begins June 1st in the Atlantic, but I imagined the chance of a storm was low so early in the season. Moreover, sailing across the Atlantic, we could angle towards the southern edge of the tradewind belt, ready to dive below 10 degrees – and out of the hurricane zone – if need be. My bigger concern was how difficult it would be to get from the Azores, at about 40 degrees north, to the steady easterly trades that begin at about 20 degrees north.
Pulling out Jimmy Cornell's World Cruising Routes , it soon became apparent that while most people do not go from the Azores to the Lesser Antilles, it would be an easy trip. Early summer is a good time to be heading south out the Azores. The same northerlies that those boats heading from the Caribbean to the Med by way of Bermuda and the Azores reach across to Gibraltar would speed our trip south into the trades. Out of Horta, we would probably angle towards the Canaries, making a stop there before continuing on to the Caribbean. In the section on the Canary Islands to Lesser Antilles passage, Cornell cautions that hurricane season starts in June, but he also states that the trades continue to blow regularly throughout the summer months giving us another favorable breeze. Moreover, Cornell tempted us with some further details about "this classic trade wind route [that] has been plied by an enormous variety of vessels in the five hundred years since Christopher Columbus himself set sail from the Canary Islands to expand the limits of the known world." In sum, a sailor's dream.
I imagined us sighting land in Antigua, having a celebratory beer overlooking English Harbour, and then quickly getting provisions together before heading northeast to the Chesapeake. The only doubts I harbored were about our ability to steer clear of hurricanes. The trip across from the Azores would easily take a month, putting us into the Caribbean in July with at least ten days of sailing through the hurricane zone remaining before we reached the Chesapeake.
At that point, I pulled up the National Hurricane Center data to see just what kind of tropical weather we could expect. It turns out June hurricanes are infrequent, making a June east to west Atlantic crossing a fairly good option. On average, the first named storm – let alone a hurricane – does not emerge until July 9th. What's more is that with the exception of just four outliers, the storms that have formed that early in the season, originated west of the Lesser Antilles, in the Greater Antilles or Gulf of Mexico. To be sure, we would need to be very conscious of the weather on our passage, but we would only be running the slightest risk of being in the same ocean as a named storm, let alone encountering it.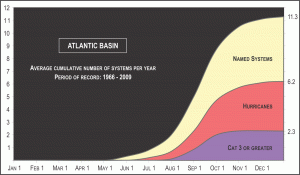 So, that was June. July was a little bit different story according to the hurricane center. But the data was still somewhat reassuring to my mind. Rather than a constant onslaught of hurricanes during that second month of the season, only about a dozen storms have formed during recorded history along our path from Antigua to the Chesapeake in the first ten days of the month. With a bit of luck, a good weather window, and constant vigilance while underway, the likelihood of us running into the next of those storms was pretty slim, with the chances of it offering up more than a gale even remoter still. If we were delayed a little longer and ended up not departing until mid July, the storm season in the Atlantic heated up a bit, but still remained relatively calm.
While I was reading all this information aloud to Margaret, we were also throwing around ideas about where we would store the boat and the places we would go the following summer. In a different browser tab, I had even priced storage at yards in the southern Chesapeake and Oriental/New Bern areas.
Most of you who have read this far probably would have abandoned the dream as soon as I said Azores ("Isn't that in the middle of the Atlantic, about 2500 miles from Antigua?"). Likely you began thinking we were really crazy at the mention of hurricane season. But not us. After all, it was a Monday evening and dreams are especially hard to shake at that time in the week. It was not until the discussion of costs emerged that the possibility of buying this particular Valiant 40 started to unravel for us. Storage would set us back a minimum of 100 bucks a month. We would also incur maintenance expenses over the next two years, just trying to keep the boat in cruising shape. And, even priced as it was, the boat was not all that great of a deal compared to others we have seen listed, even if she was in Bristol condition and loaded down with gear. With each potential blow to our cash strapped finances and small cruising kitty, the whole dream deflated a little more. But we had a grand time working our way through the dream and learned a little more that will help us down the road.