Sunday was another beautiful day in Miami, just slightly warmer than the day before. My Dad and I got to the boat show in the mid-morning, parking again down by Bayside and the Strictly Sail area. After arriving, we quickly popped into the Strictly Sail tent to sign up for a free subscription to Blue Water Sailing Magazine, which I had forgotten to do the day before. Every time Margaret and I go to a boat show, we always make sure we "renew" our subscriptions to Blue Water and Cruising World. So far, I think we have been receiving both magazines for free for the past three years.

Next, my Dad and I walked over to the shuttle busses so we could return to the convention center. On the way, I happened to glance over at the "Author's Corner" where they had a few of Jimmy Cornell's books, including his Ocean Atlas for only forty bucks. Checking with Margaret, we decided to pick up a copy. It is not something we really need at the moment, but the price was less than fifty percent of what it usually retails for. Plus, I am sure I will while away many winter hours dreaming up voyages with it and Cornell's World Cruising Routes.
Over at the Convention Center, my Dad and I cruised around like experts, quickly ogling the Boston Whalers again and then making a return trip to the Columbia tourism booth and their free espresso. Spending a little more time at the Columbia booth, I realized they also had thick cruising guides to the country with complete nautical charts to their waters, free for the taking. It should go without saying that I took.
Next, we returned to the Sunbrella booth where I talked up a few of the attendants about our – or should I say Margaret's – difficulty finding swatches of their upholstery fabrics anywhere in person or online. They sympathized, took my name and address, and promised to send a book of all their swatches, which was another great score. I just worry about the amount of fabric that Margaret will be buying now that she will be familiar with all Sunbrella's patterns and styles.
Next stop on our tour of the grounds was the Botran rum display where we picked up another large glass of this great rum. Since Margaret and I are more than a little fascinated by rum, and Botran was a good rum from a great distiller, I tried to talk up one of the guys who was pouring by asking him a few leading questions. While he was clearly eager to share information with me, the stream of people coming to get their own sample – most of them more or less masking the taste in a Mojito – prevented him from being able to say much of anything to me. I did find out that the rum we were drinking was "much cheaper" than their flagship Zacapa and that it is a 15-year old solera. A solera is a method of blending various aged rums, which is exactly what they do with Zacapa as well. The 15-year label meant that the oldest rum in the solera was fifteen years old, but probably only represented a small portion of the overall content of the rum. I will definitely be looking for Botran at the liquor store to pick up a bottle and see just how inexpensive it is.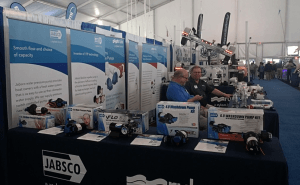 With rum in hand, we went off in search of the Jabsco booth. The day before I had blown by the booth, but I realized later I had some questions for them. We have four Jabsco Par pumps on board working as bilge, freshwater, washdown, and sump pumps. They were on the boat when we bought it, and we replaced one this summer. We have come to appreciate them with their interchangeable parts and easy to use rebuild kits. As soon as I brought up the models, the guy said, "Oh, you mean the lunar landers," derogatorily referring to their odd shape. It quickly became clear that Jabsco thinks their newer pumps are far superior to those older models and only keeps them around because some people, apparently like us, continue to hang on to them. He explained that they substantially markup the price of these pumps to discourage people from buying them. Obviously, his recommendation was that we slowly replace our old Par models with their newer ones. Though the newer pumps are more difficult to maintain and rebuild, they are only about a third of the price of the Par ones, meaning we could just carry new pumps as backups. His logic was hard to argue with, but I am still worried that he was somehow leaving something out of the story. I know many people still cling to the older Par pumps, including well-respected folks like John and Phyllis on Morgan's Cloud; I figure there must be a good reason. I will continue to investigate, but am seriously considering replacing our washdown pump with one of the new Jabsco models as I finish replacing all our raw water hoses. I would love to hear any comments from readers, pro or con.
After meandering around the convention center booths for another hour or so, casually looking at different products and unsuccessfully searching for a new LED light for above our navigation station, we rolled by the Botran booth one more time for a roadie that would carry us to the in-water powerboat display. By this time, we had really checked out everything we had needed to, so we figured we might as well make our first trip over to the marina and see what was happening there. There was definitely a different vibe at Sea Isle Marina than there had been by the sailboats at Bayside, and I really felt like I was out of my element. Still, we walked the docks and spent some time aboard the Nordic Tug 26 and 39 that they had on display, checking out the boats because so many of the cool stinkpotters we run into on the water and consider friends seem to favor these designs. What struck me most on both boats was how much they swayed from side to side in the light chop that was making its way into the marina from the bay. At the time, I thought it was the difference in weight between our 24,000 pound Tayana and the tugs. However, looking at the specs now, I see that the 39 comes in at around the same weight as Bear (though the 26 is only five tons). I guess the movement should be more attributed to the lack of a deep keel. Other than the rocking and rolling, I liked both boats and found myself really enamored with the cozy confines of the 26. But don't worry, I have no desire to switch over to the dark side.
Finally, my Dad and I got back on the bus and returned to Bayside. Now around 3pm, we decided to spend some time walking the docks, looking at the in-water boats on display. We were pleasantly surprised to find about double the number of boats as there had been the last time we were at the show in 2012. And there was a much wider representation of builders with Cape Francis, Corsair, Leopard, and a few other cats in addition to the usual Lagoons and Fountaine Pajots. On the monohull side, there was an Amel 55, a Passport Vista 545, and a host of other new and brokered boats beyond the expected Catalinas, Hunters, and Jeanneaus. But the highlight was stumbling upon Jimmy Cornell's Aventura, a Garcia Exploration 45. I spent quite a bit of time going over the topsides, looking for good ideas in his setup and layout. Intending to just get a photo and say a few words of appreciation to Jimmy, who was hanging out in the cockpit, I ended up having a nice conversation with him. He was incredibly friendly and encouraging and acted like he had all the time in the world. It turned out that after being unable to transit the Northwest Passage this past summer because of ice, he changed up his plans, which meant he could make the Miami Boat Show. Following the show, he will be setting sail for Tahiti to catch up with his Blue Planet Odyssey, which, as many of you probably know, is a rally circumnavigating from 2014 to 2017. He encouraged Margaret and I to cross some oceans, but he certainly appreciated our desire to get to know our boat better, develop our skills, and ease into full-time cruising with some summers aboard on the East Coast first. I probably could have continued to chat with him for a long time, but I was feeling self-conscious, worrying that I was intruding on his time and hospitality.
Having really gotten everything we could have out of the show, my Dad and I walked back to our car at about six in the evening, a little wiped out from the two days. Now, I am typing this up in St. Mary's, Georgia on Tuesday morning after we drove north from Miami yesterday. The rain is pouring down outside, I am catching up on some work and emails while my Dad is watching the Weather Channel. We should be able to get over to Bear today, but we are definitely not going to be able to really get into the work that we had wanted to accomplish – mainly prepping for taking the mast down later in the week – unless the rain stops, which does not appear likely. I might even have time to figure out how to edit videos, which would allow me to post something to YouTube from the show, including a few clips from Jimmy's boat and my conversation with him.