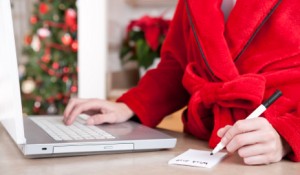 While I was recently putting together an x-mas wish list, at my mother-in-law's request (have I mentioned how awesome my in-laws are!), I realized that I was putting many things on the list that we needed for the boat. And then I realized that a wish list for sailors would be an awesome blog post!
If you are looking for gift ideas this holiday season, check out my list below. It contains ideas for all budgets (from $2.99), including practical galley gadgets, a few luxury treats, and a couple of silly stocking stuffers!).

Some of the items are things that we regularly use aboard S/V Bear, while others are items that we hope to buy, or be gifted, in the near future. If you have any questions about any of the items that are marked with an *, we own these items, and are happy to share our experience with these products.
Backlit Countdown Timer – Every sailor should have a countdown timer for keeping watch – this one is inexpensive and has a backlit display for added assistance on a dark night
Freestyle Sailing Watch – Unisex design has silicone band, countdown timer option, and is water resistant to 330 feet
*Deluxe Rigging Knife Tool – The marlin spike and shackle key on this tool make it easy to loosen and tighten shackles and knots
*Gerber Sailing Knife – This is the exact knife we both keep in the pocket of our PFD's to use in case of emergencies
*Tea Tree Oil Spray Cleaner – I use this spray religiously to keep mold and mildew at bay. Safe on the wood and fiberglass and environmentally friendly.
*Waterproof Spot Light – We have used this light on numerous occasions to help us find our way into a dark anchorage. It is rechargeable, the battery lasts for a long time, and the light has always been bright enough for us.
*Headlamp with White and Red Lights – I use this lamp to read while on watch and when I need to work in the lazarette at night- The red light setting really helps preserve night vision
*Sewing Palm – This comes in very handy when whipping line or sewing canvas or sails.
Drybag Backpack – Comes in a variety of colors and has comfortable padded shoulder straps and lumbar support. Great for transporting laptops and other electronics to shore in the dingy. We have been using a regular large dry bag to bring our gear to shore, but a backpack would be easier to carry when we need to walk a long distance to the laundrymat or coffee shop.
Waterproof Binoculars – A good set of binos on board helps you to check out the anchorages, spot approaching vessels, and watch wild life. Our current pair is not very good and does not fit my face well. Hoping to upgrade to these or a Nikon pair in the near future.
Galley – The theme of these gifts is "space savers"!
Travel Wine Bag with Spout – the perfect gift for the social cruiser – makes carrying boxes wine a breeze
Books and Games
*Complete Sailboat Maintenance by Don Casey – One of the first books we pull off the shelf when we encounter a problem aboard. It also includes "Inspecting the Aging Sailboat," which was our bible when looking at boats.
*Boatowner's Mechanical and Electrical Manuel by Nigel Calder – A great guide with lots of diagrams and images with simple, yet effective troubleshooting and repair explanations
*Storm Tactics Handbook by Lin and Larry Pardey – Practical advice on how to deal with heavy weather situations
*Sailing a Serious Ocean by John Kretschmer – Part sailing guide, part memoir, this is a real life adventure book
*World Sailing Routes by Jimmy Cornell – This is 'the' book on how to navigate to all of the far-off sailing destinations you have been dreaming about. Certainly serious cruisers use it, but just paging through it can set off cruising daydreams.
Good Old Boat Magazine Subscription
Electronics
Waterproof Digital Camera – I hope to replace our broken waterproof camera with this one soon
*GoPro Waterproof Video Camera – We have this version of the GoPro camera and find the quality really nice – it is compact and waterproof (in the case). You can check out the image quality here.
Handheld GPS – Most folks seems to prefer the Garmin 76, which is our backup, but they no longer make this model. This is the closest model available.
*Handheld VHF – Having a handheld is really handy, especially when one of you is in the dingy and one is on the boat.
Handheld Depth Sounder – A great tool for measuring bottom depths when in uncharted waters. Jeff is obsessed with these things, though he cannot really come up with a time when we have needed one yet, though s/v Delos uses one all the time.
Clothing and Accessories
Sailing Gloves – We have found that we like to have a couple of spare pairs on board, in case we have extra crew or ours get wet.
Foul Weather Jacket – This should probably be in the Luxury section!
*Quick Dry Shirts – I have this shirt in aqua and white and love it!
Boat and Home Decor
Head Sign – "Poop Deck" – Solid Brass 6″ sign
Stocking Stuffers
Sunscreen Flask – Bring your booze anywhere with these sneaky continers
Nautical Themed Chocolates – Who doesn't like chocolate?!
"I'd Rather Be Sailing" Vinyl Car Sticker
"I'd Rather Be Sailing" License Plate Frame
Sea Bands – seasickness remedy
*Ginger Chews – seasickness remedy
*Handheld Water Misting Fan (this is amazing when you are at anchor and it is 100 degrees)
Hydrostatic Inflator Rearming Kit – Everyone on board should have a rearming kit, or two, in the spares. Both of our PFD's are the West Marine Off-Shore Model.
Luxury Gifts
New York Sailing School Gift Certificate
**(For the sake of transparency, I must admit, if you make a purchase through one of the links above, you will add a few pennies to our cruising kitty. Many thanks in advance!)