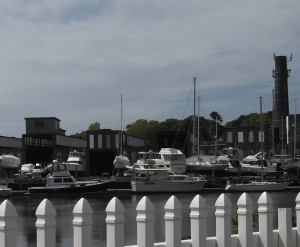 Just to the left of center in the above photo is Bear on the hard. I took this photo while I grabbed a cup of chowder at the Lobster Shack, which is a delightful little place that serves up lobster rolls, grilled clams, chowder, and not much else (and it is BYOB!).

I have been in Branford, Connecticut for the past several days getting acquainted with Bear and doing some minor maintenance. I will post a bit more on some of the projects in a few days, but today I replaced the corroded vented loop in the head and am servicing one of the primary winches.
Tomorrow Margaret arrives and Bear goes in the water! We then have the sea trial on Saturday. If everything goes as we hope (fingers crossed), we will be spending a few days at the dock before pushing off to start exploring Long Island Sound. We will probably head over to Port Jefferson for a week or so as we continue to get to know Bear, settle in to life aboard, and take care of a few more projects.
We plan on starting to post a lot more regularly now that it is summer and we are (soon to be) aboard. So stay tuned!