Today was a busy day aboard Bear. After our first night sleeping aboard, we were surprisingly well rested this AM. The yard was quiet last night and, after the last train came through the nearby station, it was just us and the crickets.
Up around 8, we decided that the first order of business was to head over to West Marine to pick up some line. One of our goals for the day was to wash and measure many of the lines for the running rigging, so we picked up some thin line that we could use as messenger line, to tie to the halyards and send aloft. This saved us from having to climb the mast and re-thread all of the lines we needed to measure. We learned that the the main halyard needs a new splice and that both of the furling lines and the lazy jacks need to be replaced. All of these lines were really dirty, coated in mildew and dirt, which made the wash water a nasty brown-green hue during the wash process. I'm lucky that Jeff has a high tolerance for ick!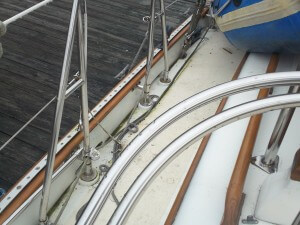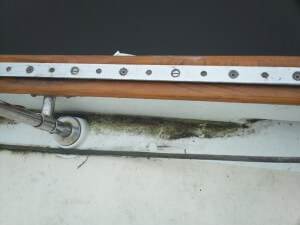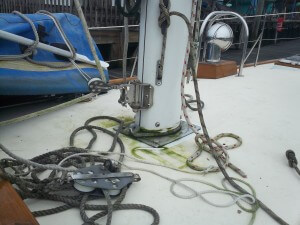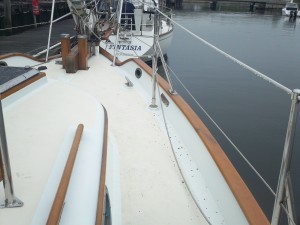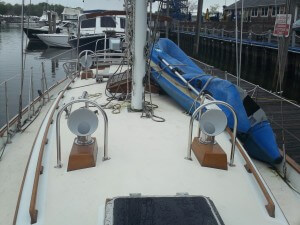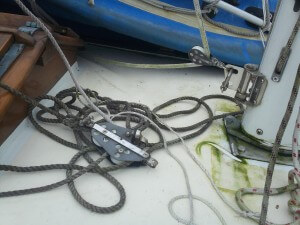 While the Captain worked on the lines, I feverishly scrubbed the decks (no, this does not make me the First Mate, Admiral, or Skipper!) . Within a couple of hours, Bear began to emerge from hibernation, shedding her coat of mildew and grime, to reveal a salty bluewater cruiser.
Just as the decks were beginning to shine, the former owners came by to say hello. What a great couple! It was very clear that they loved Bear and were sad to have to sell her. We chatted for a few minutes, all of us very emotional about the vessel that had brought them together as a couple and surely holds countless adventures for us.
After we enjoyed watching the tide go out while eating a quick lunch of peanut butter sandwiches on the topsides, we drove up to Defender Marine in Waterbury to pick up parts for our bilge pump, line for one of the furlers, a rigging knife, and a boat hook. This place is a boaters delight. They have a fairly large outlet store and claim to have 50,000 items available in the warehouse. We hope to not lose our entire savings to this store in the next week!
On the way back to Bear, we stopped at the state park campground Jeff stayed at this week before Bear was put in the water and took advantage of their hot shower. It felt lovely to rinse away the bug spray and grease. Virtually empty the previous week, this 500+ campsite was full for Memorial Day weekend.
Back on Bear, we worked against the setting sun and the swarm of no-see-um's to hank on the mainsail and put up the dodger and bimini. Once we finished these tasks, we headed below to tackle the dreaded bilge pump, which the previous day had continuously thrown its belt. On our first attempt, much to our surprise, we got the pump repaired! Needless to say, a few high fives were thrown!!!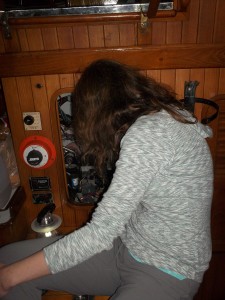 We got a lot accomplished today, but more importantly, we learned a lot about Bear. Tomorrow morning we will be joined by our surveyor, Phil, our broker, Hal, and the previous owner, David, for the sea trial. Cross your fingers for us. If all goes well, we hope to be crossing Long Island Sound to Port Jefferson next week!
(I will add some pictures of Bear's transformation tomorrow!)