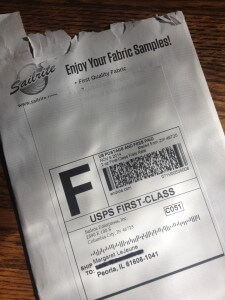 I spent most of this week eagerly awaiting the mailman. Our neighborhood deliverer looks like a cross between Nicholas Cage and Al Bundy. He is a super nice guy, and this week, I was particularly happy to see him bring to my home an assortment of small, precious packages containing….wait for it…. swatches of fabric.

After I ordered foam for our cockpit cushions, I began pursuing the internet for examples of unique cockpit cushion fabrics and colors. Unfortunately, my Google, FB, and Pinterest searches did not turn up many exciting or out-of-the-ordinary results. While the internet is full of images of cats sleeping in funny positions and puppies and babies, it sometimes lacks more substantive and useful imagery, particularly of sailboats.
When I began searching for material for the cushion covers, I quickly got lost in the wormhole of the sewing underworld known as online fabric stores. A warning gentle readers – do not go down this path unattended. If it wasn't for the prodding of my loving husband, I would have toiled for hours, avoiding sleep and meals, in the hunt for the perfect weave and pattern.
As I mentioned in a previous post, I am a novice sewer, and haven't stitched a hem in over a decade. My experience is mostly with simple quilting fabrics, such as cotton and muslin, not outdoor fabrics such as Sunbrella. New vocabulary terms such as "double rubs", "UV resistant", "mildew resistant", and "direct sun exposure hours" swirled on my tongue as I tried to explain to Jeff, which indoor/outdoor fabrics would be sturdy, yet comfortable enough for use in Bear's cockpit.
After spending countless hours online ogling at sumptuous patterns and colors, and creating a Google Doc with over 25 fabrics, I came to a wall in my research. I knew generally what colors and patterns I was targeting, however, I felt uneasy about ordering swatches at $1.00-$1.75 each without knowing how these fabrics felt or performed. Jeff suggested at this point that we go to a local fabric store and put our digits on some of the brands I was considering.
A day or two later, at our local Jo-Ann Fabrics, we learned a lot about indoor/outdoor fabrics. Most of the material I was considering were from three brands – Sunbrella, Richloom, and Waverly Sun N'Shade. While Sunbrella had the highest double rubs, at 15,000, and the best direct sun exposure hours, at 2,500, it also was the most expensive of the bunch, by about 3x's the price of the other two. As we walked up and down the aisles, pawing at the mostly garish swatch collections, we noticed a few things; first, both the Richloom and Waverly materials felt too thin to be sturdy enough for the beating that cockpit cushions take, and secondly, that our local Jo-Ann's had a really crappy selection of Sunbrella. The first observation helped reinforce a comment I received on Women Who Sail earlier that week. Another member had made all of her salon cushions (34 to be exact) from Waverly Sun N' Shade, and within a year, the fabric was stretched out and looking worn. Her advice, and personal plan, was to invest the extra bucks in Sunbrella.
Armed with new energy and information, I began ordering swatches. I ordered four fabrics from Fabric.com based in Kenessew, GA, three stripes and one solid color. The swatches were not cheap, at $1.75 each, but I knew that I would spend much more in gas and time traveling around Illinois, probably to Chicago, to see these patterns in person. Below is an image of the swatches from Fabric.com.

Top left to right: Sunbrella Outdoor Carnegie Stripe Celeste, Sunbrella Outdoor Marcello Seaglass
Bottom left to right: Dwell Studio Sunbrella Marisol Turquoise, Sunbrella Outdoor Canvas Spa
I ordered colors and patterns that I imagined would look good with our current dodger and bimini, which is made from Sunbrella Supreme Linen with Linen Flock. Then I realized that I should probably order a sample of the bimini fabric just to be sure that the material I selected for the cockpit cushions would look good near it.
Thus began my trip farther into the wormhole. On Sailrite.com I poured over the pages of Sunbrella fabric and thought about how neither Jeff nor I are really crazy about the color of our current bimini and dodger. However, with that being said, we are not going to replace it anytime soon, as it has only been used on the boat for one season. The previous owners had it made the last summer that they were on the boat. Unfortunately, they had it made in Linen, which does not match any of the other canvas on the boat. The sailcovers on the furled front sails and the main are old and tattered, but nonetheless have maintained a brilliant blue hue. It should also be noted that this blue matches the lettering and stripe on the side of the boat. With all of this in mind, I ordered additional swatches of Sunbrella Canvas in anticipation of redoing the sailcovers and building a stackpack for the main. I would like the fabrics to work well together from bow to stern, sailcover to cushions, in the not too distant future.
Top left to right: Sunbrella Supreme Linen with Linen Flock, Sunbrella Marine Grade Linen, Turqoise
Center left to right: Aruba, Sky Blue, Aquamarine
Bottom left to right: Mediterranean Blue, Pacific Blue, Persian Green
We have narrowed our choices down to a few favorite combinations for cockpit cushion covers and canvas. My plan is to take the swatches to Georgia with us in December when we plan to do a bunch of rebedding and other work on the boat. With the fabrics on board I will be able to see what the colors look like with the teak and fiberglass, as well as the dodger. We are looking to choose fabric for the cockpit cushions and stackpack, which I plan to make this spring. What pairings do you like? Leave a comment below.
New posts coming soon on ReturntoSeasons – "In search of the perfect V-Berth Mattress: The Battle of Innerspring vs. Foam" and "To Ultrasuede or not to Utrasuede, That is the $1000 (literally) question!"