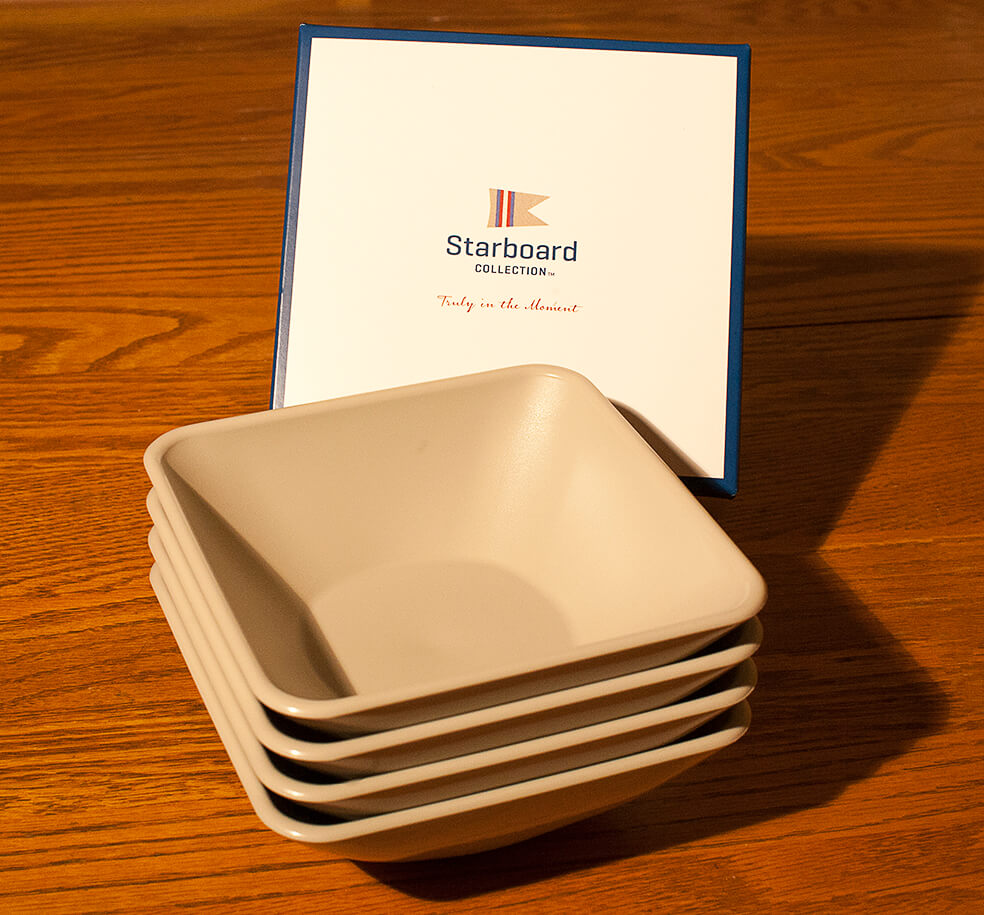 A few days after I posted the Wish List for Sailors, I received a comment from Aimee Marti at Starboard Collection asking me if I would review her new product line. After taking a peek at the well-designed website, I responded that I would be happy to write a review of her products on ReturntoSeasons. About a week later, a package arrived containing several pieces from the Carina table top line, and, after a thorough review, I can honestly say that I am eager to incorporate this tableware into our galley.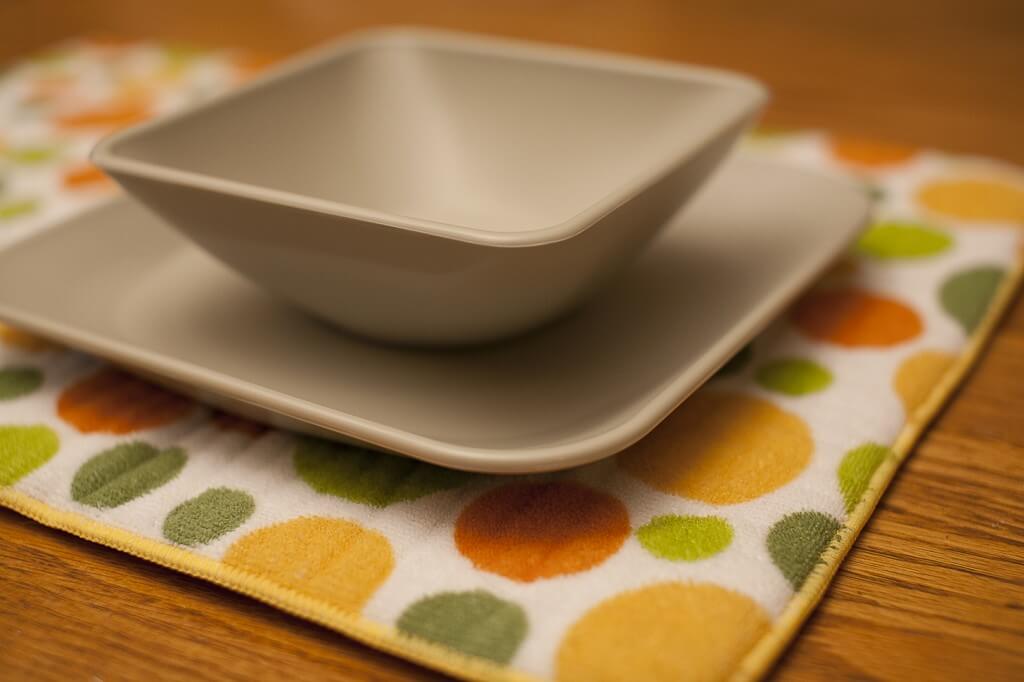 Design:
The design of the Starboard Collection is streamlined and clean. The plates and bowls are more square rather than round. The top edge of both bowls and plates have a small lip, which should help keep food and liquids from sloshing out.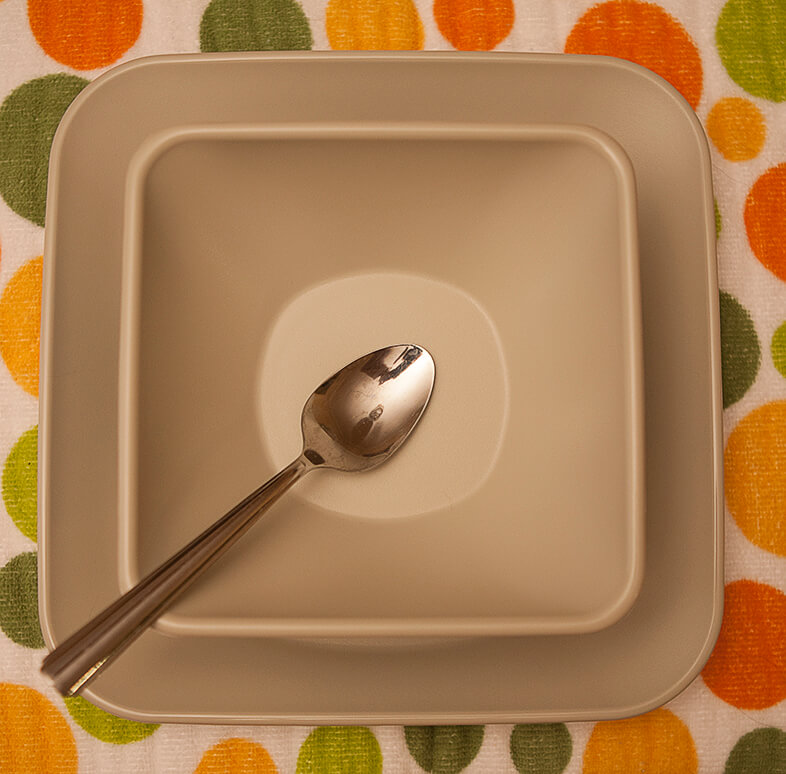 The bowls are 6″ across, which makes them the perfect size for morning hash, yogurt, or grits and poached eggs. They also function well as serving dishes for snacks such as crackers and hummus, chips and salsa, and other appetizers. While I find these a bit small for main dishes, such as pastas and soup, I think that pairing this set with a couple of 9″ serving bowls would cover all of our dining needs.
The Collection is available in three colors: Marine Blue, Nantucket Red, or Canvas, which is a shade cooler than khaki (compared to my husbands pants). These colors work well together and complement a variety of other hues, so they could be mixed with an assortment of galley ware.
The square design helps holds food in place, as it will shift into corners rather than around the sides of a traditional bowl. The angular shape also stores easily in lockers. Moreover, the plates have a low profile which means that they take up very little space when stored stacked.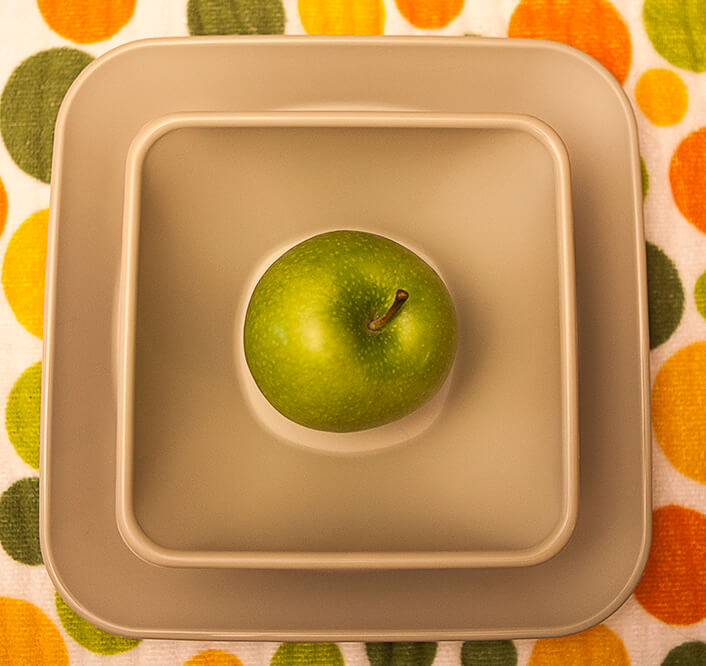 Functionality:
Equally, if not more important than the aesthetics of this set, is the functionality. On a boat, it is imperative that things work, and work well. This tableware is designed with cruisers in mind.
The non-skid bottom is a must for boaters who are on the go. The rubber base helps the bowls and plates stay put on the counter or table when the winds whip up and the seas get snarly. This is important as no one wants to wear a bowl of hot ramen or clean spilled pasta fagoli off the cabin sole.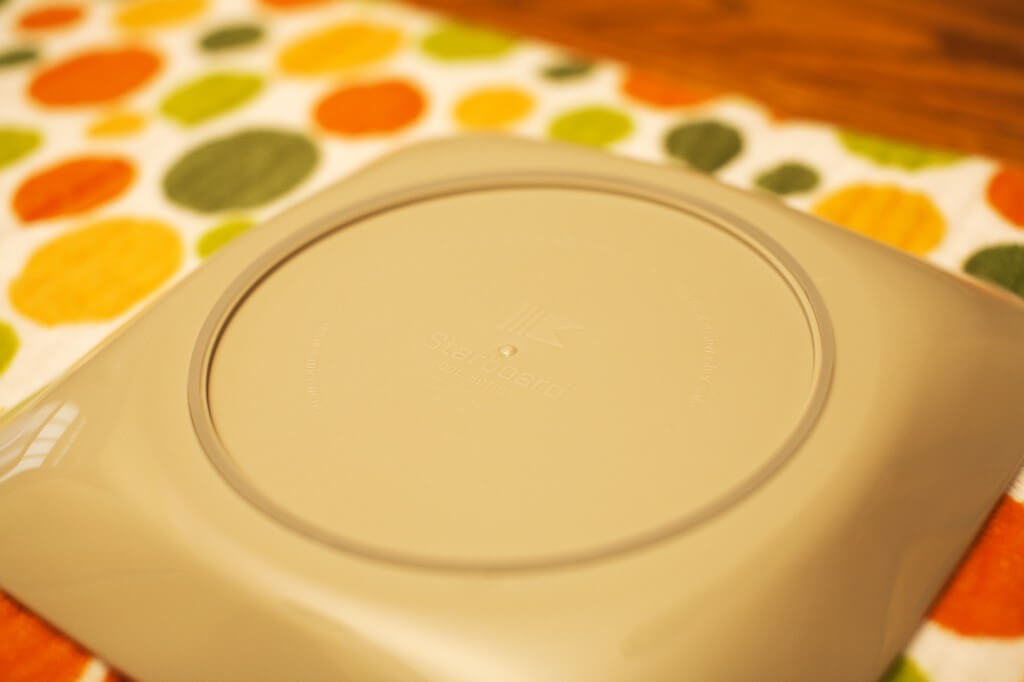 Another important feature of this tableware is its stackability. As I mentioned above, the plates have a low profile, which means they occupy minimal storage space. The bowls also nest well, and when stacked together, take up less than 6″x6″x 5.5″. On our Tayana 37, space in the galley is limited and precious, but I foresee this collection fitting nicely in the small locker above our stove.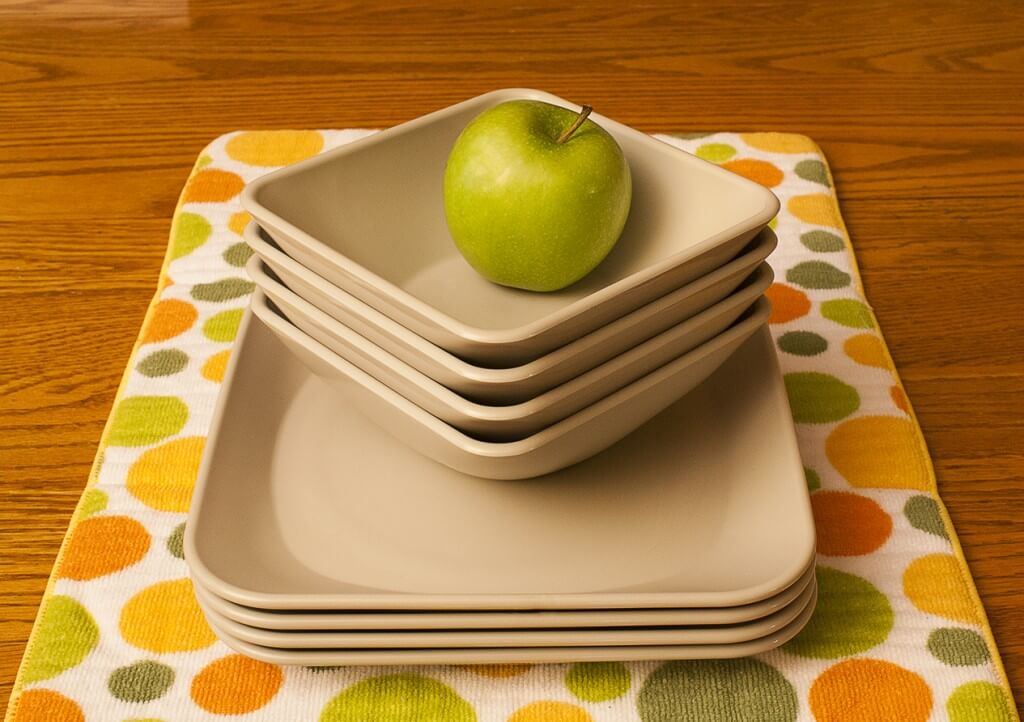 Durability is another key feature for boat tableware. The very idea of shattered glass in the cockpit or salon makes me shiver. The Carina Collection is made from shatterproof, 100% recycled plastic, which is BPA, lead, and melamine free. Unlike our current boat tableware, these pieces have a bit of heft to them, in a good way. This weight will help the dishes stay put when in a seaway and also reflects the durability of the material.
I should mention that the products are dishwasher-safe, even though we do not have the luxury of a dishwasher aboard S/V Bear. They are also somewhat microwave-safe (the instructions say not to microwave for more than 2 minutes and to avoid oily meals or sauces that might stain, such as marinara). As is the case with the dishwasher, we do not have a microwave aboard, so these aspects, which may be important to other boaters, are not significant to us.
Price:
As cost conscious cruisers, we are always weighing price versus durability, need, and comfort. The Everyday Dining Set, with four bowls and four plates, normally sells on Starboard Collection for $88. It is currently on sale for $52.99.
Our current melamine tableware, sold at West Marine and Defender, is currently on sale for as little as $2.12 for an 8″ serving bowl and $1.70 for a 16-ounce soup bowl. An eight piece set, with 4 large bowls and 4 small bowls, currently run just over $15.00, but outside of the holiday sale the list price for these items would be $60, which is comparable to Starboard Collection.
Conclusion:
With nice lines, excellent functionality and durability, this set of tableware wins my vote. While it is more expensive than the melamine ware sold at West Marine and Defender, as they are usually on sale, it has a much higher build quality and is made from 100% recycled materials. I also like the idea of putting a few dollars into the pocket of a fellow sailor. So, if you are looking for new tableware for your boat or trying to find a nice gift for cruising friends, check out Starboard Collection. They also have a variety of other galley items, including serving trays and appetizer sets, that would work well as gifts. I know I will be adding the serving bowls, in canvas, to my wish list!