As our regular readers know, our blog is weeks behind schedule and we are actually much farther south in the Chesapeake than where our posts make it appear. Posts to come include Annapolis, St Michaels, Solomons Island, and more, but I have come to my limit of living (writing) in the past and am going to give you an update about our current whereabouts.
We came into Deltaville, VA on Friday afternoon after a very calm motorsail across the Bay from Onancock, the bug capital of the world. As we came in the mouth of the Piankatank River we heard a distress call from a boat aground in the Jackson Creek channel. This is the exact channel that we would need to traverse to drop anchor outside of the Fishing Bay Yacht Club. Jeff immediately got on the VHF and hailed the vessel in distress, Rough Draft, to ask about their draft. The captain responded that they had a 6'4" draft, which is 8" deeper than S/V Bear. This eased our concern, as we had heard that the channel was narrow and that some silting may have occurred since the last dredging.
When we arrived at the channel, Rough Draft was nowhere in sight, so we proceeded with caution through the winding markers. On approach to the FBYC, we noticed that the State Dock was located across the water on the north shore, making this a convenient location for us to tie up our dingy.
After dropping the hook, we went for a leisurely dingy excursion up Jackson Creek. Along the way we saw many interesting boats and some bizarre architecture, including a home with an attached conservatory. At the end of the creek we found this beautiful marsh.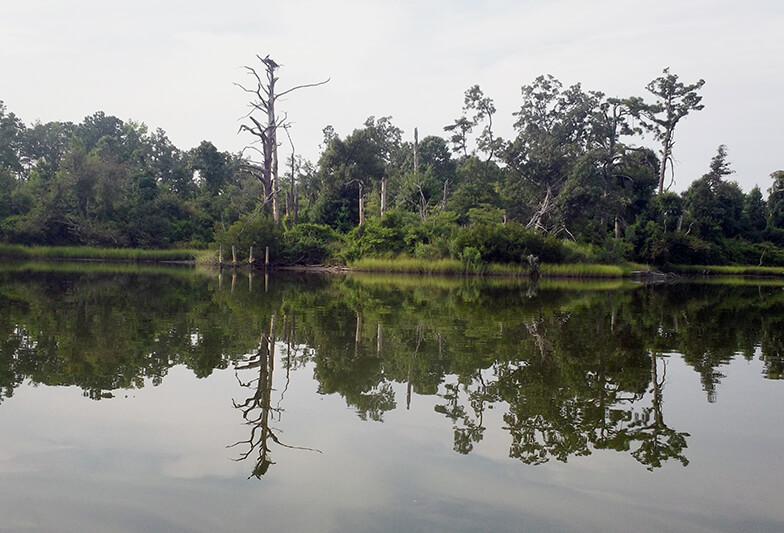 We decided that we would tie up at the State Dock and take a walk into "town". I had only brought my shower shoes, aka flip flops, so our walk was a bit slow and clumsy. We walked by the homes that we had viewed from the water and found some semblance of "town" about a mile down the road.

At the corner of General Puller Highway, we located the Middlesex County Library, Wendy's Sail Shop, Taylor's Restaurant, Tru-Value Hardware, and the Post Office. This seemed promising. Just a short distance to the right we found Café by the Sea, the local coffee shop, which serves breakfast and lunch daily from 6 am to 3 pm. It was after 5 pm at this point, so we decided that we would head back to the boat, make dinner, and head to bed early, as we had both had had a rather fitful sleep the night before, disturbed by the onslaught of bugs we had picked up in Onancock.
In the morning, I got in touch with Julie Ann, an acquaintance from the FB group Women Who Sail, whom I had come to photograph. She told me that, unfortunately, I would not be able to photograph her family racing today, as they were split up on different boats. Though this was certainly not the news I wanted, she did invite us to come in for the party after the regatta that evening. So instead of photographing, Jeff and I spent the better part of the day exploring General Puller Highway and its many shops. We had breakfast at Café By The Bay, while perusing a Mid-Atlantic cruising guide. We discussed where we might pull the boat and which parts of the ICW Jeff would travel with his cousin Tim, who is coming to Norfolk in a few days to help him move the boat south after I depart. The women who run the Café were extremely knowledgeable about the local sailing community and had many suggestions of people to contact about my project.
Our next stop was the post office to pick up some mail. For those of you who have asked what we do with our mail while we are cruising, here is the answer: We hold our mail in Peoria for one month at a time, the maximum time allowed, and then we ask one of our kind friends to stop by the house and put the basket of mail inside. When we need something delivered to us along the way, we have it sent to the next port that will have a PO within walking distance of our anchorage. Mail can be delivered General Delivery, to most POs and will be held for up to 10 days, as long as it is sent c/o and marked "hold for boater". We were happy to find both a new credit card and water filters for the boat waiting for us in Deltaville. Next, we stopped at the local West Marine and picked up our new Raymarine a67 Chartplotter , which we had purchased over the phone a few days ago. It should be noted that this is a huge WM store with very helpful sales reps. In addition to the chartplotter, we picked up Skipper Bob's Marinas Along the Intracoastal Waterway , which we hope will be useful in helping us identify a marina where we can pull the boat and do work on Bear ourselves (some marinas do not let you do your own work, but instead required that all work is handled by the yard. As you can imagine, this can get pretty pricey.). We also picked up a copy of Waterway Guide Atlantic ICW 2014 (Waterway Guide. Intracoastal Waterway Edition)
Just past the West Marine we found a great nautical consignment shop called Nauti Nells. Raynell, the proprietor, who has a wealth of knowledge about local maritime history, gave me some suggestions on people to contact for my project and agreed to sit for a portrait. I hope to make a shot of her in the used gear room of her shop, which has everything from marine heads to foul-weather gear.
Across from Nells is JW Seafood, which sells an array of fresh fish, prepared foods, and cold beverages. They also have a small selection of gifts and souvenirs. Below is a photo of Jeff posed with the millions of oyster shells piled up in the parking lot.

We made a quick stop at 7-11 for some snacks before heading over to the library. While Jeff did some grading, I walked over to Ullman's Sail Loft and chatted with John, a tatted up Grateful Dead fan, about my project. He told me that they have a female canvas maker and a female sailmaker, both of whom he thought would be amenable to me photographing them on Monday.
Tired, hungry, and loaded up with things to carry, we headed back to Bear. With an assortment of the fresh veggies that Jeff had bought in Crisfield, I made fajitas for dinner. Afterwards we spent about 2 hours cleaning Bear inside and out, from the bow to the stern, topsides to the cabin sole. It is so nice to have a clean home in the amount of time it would take us to clean one room in our house in Peoria.
Around 8 pm we drank our last drop of water and decided that we would head into FBYC to fill up our jugs and perhaps crash the Regatta party. The party was hopping when we got there, with a band and a couple hundred people milling about. I found Julie Ann closing up the store, and we chatted for a long while about the regatta, my project, and Deltaville. She and her husband, Paul, gave us some drink tickets and we made a beeline to the bar. For $10, Jeff was able to purchase an all-you-can-drink pint glass, and I used our tickets to get a glass of wine. Soon we were swapping sailing stories with a bunch of the locals. Commodore John was very welcoming, even encouraging us to use the facilities if we like. As a matter of fact, now that I think about it, many folks offered us the use of the showers that night. Perhaps there was something to this coincidence? Maybe they were trying to tell us something?
We felt fully embraced by all of the awesome folks we met at FBYC, many of whom shared our cruising dream. We hope to connect with the FBYC again in the future. Perhaps next year we will sail into Jackson Creek flying out new burgee. Thanks Julie Ann!