Waking up in a peaceful, quiet harbor in the Bahamas does not get old. Day four of our trip began, for me, with a leisurely morning filled with reading in bed, a cup of tea on the deck, and warm winds suggesting it was going to be a beautiful day in paradise. Jeff, Sasha, and David had their own special morning with a turtle sighting, so we were all feeling pretty excited to start our day. After listening to the Cruiser's Net, Sasha and David took the dingy over to Dive Abaco, while Jeff and I made corn and egg tacos for breakfast. Upon their return we pulled up the anchor and headed over to Mermaid Reef, just around and outside Marsh Harbour. As it was only a short distance, we motored over and dropped the hook about an 1/8 of a mile from a small crowd of snorkelers.

While Sasha and David took a peek at the reef, we tidied up the boat a bit in anticipation of a visit from Mark, who was coming to check on the outlets that were still non-operational. I should mention that Mark and Patty's idea of customer service is outstanding. They seemed to be available to all of their charter customers, both day and night via VHF, regardless of how trivial or simple the question. We enjoyed listening in on some of their interactions and had a few laughs at some of the ridiculous requests!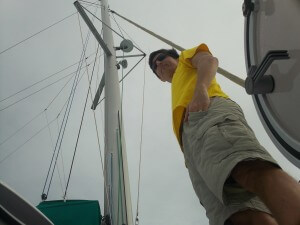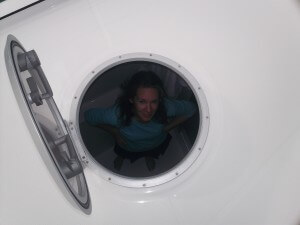 Here I will take the opportunity to give you an abbreviated boat tour, since I took some images of the boat as we were cleaning up:
After Mark dropped by and gave us a portable inverter as a temporary fix to our electrical issue, we headed back to the protection of Marsh Harbour for the night. Once we got the anchor set we pulled out the guide books and looked for a place to get drinks and wifi. I had a wild hankering for Irish Creme, so we planned to case the area for a liquor store as well.
While we did not find much open in the immediate vicinity (Sunday mid-afternoon) we did go on a nice tour of the area shops.
We ended up at Curly Tails for cocktails after our short walking tour. Located above the upscale restaurant of the same name, this place has some of the best views of the Harbour and a gigantic lizard above the bar. The bartender, who made a great cocktail, was a bit brusque, but it didn't matter because the wifi was fast and free!
After fulfilling our need for libations, we headed back to the boat for dinner and a rather vicious hand of Spades.