While we were at my parents' house, Margaret came across two Cabot 36s listed on Yachtworld and located in Indiantown, Florida, near where we had looked at So Bella and Suwendenjen. We were unfamiliar with this design, but started to do a little research.
It turns out the Cabot has an interesting history as the product of a Canadian government development grant that helped get the company off the ground in the early 1970s. They produced boats in the far north for about eight years, constructing some 50 Cabot 36s. The design seemed sound and there were quite a few Cabots that have made serious ocean voyages. While there was not too much information available on the web, there was a blog that many owners had contributed to that filled in some of the details

Caper and Cottonwood II, the two boats in Indiantown, had both been extensively cruised and seemed to be in fairly decent shape with a wide range of equipment. The price was also right, at 49,500 and 54,900 respectively. They were also being joint-brokered, with one of the brokers being none other than Stan Dabney of Offshore Atlantic Yachts. Stan and his wife, Sylvia, were both instrumental in the marketing of the Valiant 40, and he continues to be an incredible source of information for those interested in Valiants or really any other bluewater boat. As importantly to us, we were already in contact with Stan as he was the listing broker on a Cabo Rico 38 and a Valiant 40 back in Fort Pierce. That connection made it all the more easier to add the Cabots to our list.
Between the holidays and our trip to the Bahamas – with all the spotty internet that entailed – we were unable to solidify our plans with Stan until January 3rd, the day we returned from the Abacos and the evening before we hoped to step aboard the four boats. Stan was visiting friends in the Pacific Northwest and would be unable to take us to the boats himself. However, Stan had arranged for a friend of his, Wally, to take us to Indiantown and then over to Fort Pierce. All we had to do was drive from the Miami airport to the area, get a hotel room, and meet Wally the next morning at a McDonald's just off I-95.
After some funny and embarrassing interactions with other customers who we thought might be Wally, everything finally fell into place when we hooked up with the man himself in the parking lot. Wally was incredibly friendly and, as we were to discover throughout the day, harbored a deep love of boats and a wealth of experience restoring and refitting them. He also drove everywhere at about five miles under the speed limit, which was a new way of seeing the world for both of us (I found it relaxing; Margaret made me swear I would never drive at that speed again).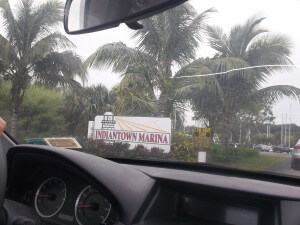 About twenty miles from the coast, Indiantown Marina is along the Okeechobee Waterway. With hundreds of boats on the hard in various states of disrepair and a few dozen folks milling about ostensibly getting their boats ready to cruise, the yard was fascinating and reminded us of a favorite Youtube video, Curtis's Yard of Broken Dreams. This was certainly the place to while away an afternoon looking at boats, marveling at derelict vessels and a few still promising yachts, while imagining all the wonders these boats have seen and experienced. Unfortunately, we did not have such time as our attention immediately focused on Cottonwood II, which was looming in the parking lot not far from where we got out of the car.
With what we knew about Cottonwood, she seemed like an interesting boat, though, by my initial estimation, Caper represented a better deal. Cottonwood was newly repowered with a Beta Marine engine. Betas, a marine-ized Kubota engine, are right up there with Yanmars in my mind, partly because I like the idea – promoted by all Beta aficionados – that parts are easy to come by around the world and, here in the states, are available right off the shelf at your local auto parts store (I like Yanmars for other reasons). She also came with a new main, a stack pack, a Hypalon dinghy, windvane, and a hard dodger. Walking up to her at Indiantown, I was just hoping she would prove to be as good as she seemed.
The hull seemed in decent shape and there were no obvious problems with the propeller and rudder. Climbing aboard, my eyes were immediately drawn to the forest green hard dodger that, while surely effective, looked homemade and, together with the awful color, took away from the aesthetics of the boat. Once I was able to take in the rest of the topsides, some other issues became apparent, including somewhat loose stanchions, a loose bow pulpit, a terribly rusted windlass, rusted anchor chain (to the point it probably needs replacing rather than regalvanizing), and older, non-self-tailing winches that were, however, in good repair.
Stepping below, everything looked fairly well-maintained and, even though we would want to replace the cushions, curtains, and other such things, it was fairly nice. As I started to look inside the bilges, below the sinks, and in other tucked away places, some problems loomed. There was corrosion at the mast step, lots of worn and rusted wiring throughout, thru-hulls and seacocks that looked to be quite old, and a mild stench below the head. All-in-all, it was not terrible, but together with the ugly hard dodger, I soured on the boat rather quickly. I admit that rusty wiring, tired thru-hulls, and dirty bilges probably have an outsized effect on my assessment of a boat. After all, compared to other big ticket items such as a new engine, these are relatively minor fixes that are part of the routine maintenance of a boat. However, for that very reason, nasty bilges – like a rusty anchor chain – seems, in my mind, to portend other problems. I imagine that a boat owner who does not care for their thru hulls or the anchor chain probably could not be bothered to take care of any number of other things I cannot see or do not know to look at. Fair or not, these issues – along with that green monstrosity at the front end of the cockpit – had me nearly crossing Cottonwood off the list despite her other merits and low price.
Margaret's Thoughts:
I was excited to look at the Cabots as their reputation was good and the price was right. We thought it was unusual to find two of these boats in the same yard, considering that there was only about 50 of them made, but that this would work to our advantage as we would be able to compare the condition of the boats. I boarded the boat first, asking Jeff to hold the wobbly ladder, and noticed the aforementioned green homemade dodger. Though this is pretty ugly, and does not match the green of all of the exterior canvas, it could easily be improved with a couple of coats of white paint. The cockpit enclosure was nice and I could imagine cool or buggy nights in which this type of protection would be ideal.
On deck, Jeff checked out the rigging, winches, and ground tackle while I went below to check out the accommodations.
Immediately to port you will find the galley. It is U-shaped with decent storage and counter space. It is however butt ugly. With a little love, including replacing all of the countertops and the black plastic locker doors, it could be vastly improved.
The refrigerator had a nice stackable storage system with crates that would be light enough for me to remove even if chocked full of provisions.
Additional storage for plates, bowls, etc..
Across from the galley to starboard you will find the nav station and quarterberth. Again, these are very functional spaces, but in need of a make-over. The wood could easily be restored, but again, the black plastic locker door would need to go.
Moving forward into the salon you will find a straight settee to starboard and a U-shaped settee with sole mounted table to port. Both had ample storage behind with lockers and bookshelves. Behind the back of the settee cushions you will find additional storage space and below the seat are the tanks.
Heading forward you will find a heater on the starboard bulkhead.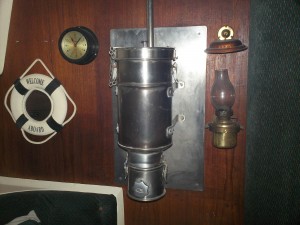 Past the carpet wrapped mast is the head to starboard with storage adjacent.
The head has two doors, one to the salon and one to the forward cabin. The left image below is taken from the v-berth looking aft. The right image is from outside of the head looking forward.
While the Cabot has a good reputation and is a nice size boat for two, I do have a few reservations about the vessel. My first concern is with the plastic ports. These are original and would all need to be replaced. My second concern is with the ridiculous use of formica in the galley, saloon table, and forward cabin. While I know that these are relatively easy fixes, they will require a decent amount of time and energy. It also concerns me that such cheap materials were used in the production.
In reviewing the photographs for this post I was reminded of the scale of this boat and the fact that 36′ seems to be the smallest vessel on which I am comfortable. I like when the galley, nav station, and salon feel open (though I also understand the need for good hand holds and locker latches). To this end I prefer a galley without upper cabinets so that there is an uninterrupted line of continuous sight forward. I also like the idea of a table that drops down to allow for a double or queen size berth in the salon. I imagine that we would sleep in this space quiet often, as we did when we chartered Sojourner.
And so our search continues.
Cottonwood II Yachtworld.com listing
Cabot info: