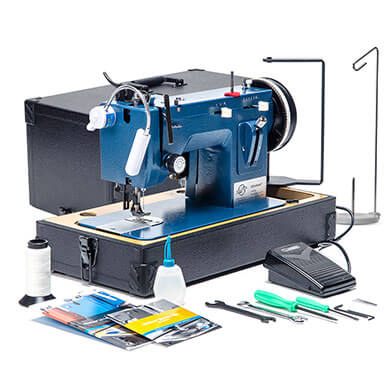 Today we bit the bullet and bought a Sailrite Ultrafeed LSZ-1 Premium sewing machine. We have been procrastinating for a long while now, putting off the purchase for as long as possible. What made us finally commit today, you ask? Sailrite was running a boat show special, 10% off any walking foot machine, and when we considered the sizeable investment that we would be making in the machine, 10% translated to a lot of rum money!

In order to garner a bit more knowledge about how others were using their machines and which bells and whistles they saw as important, I posted a query on the Facebook group Women Who Sail. As a smart and congenial bunch, I knew that I could ask a direct and specific question and get helpful advice rather than having to sift through unhelpful, unfounded, and often demeaning, posts on Cruisers Forum.
My plan is to make all new cushions for the cockpit and interior of our boat as well as a stackpack and cockpit enclosure. While the 10% off sale surely helped seal the deal, we also realized that if we don't get to work on the cushions soon, we will not have anything to sleep on when we head to GA in December. When Jeff hauled the boat out in September, I asked him to bring all of the cushions back to Peoria so that I could use them as patterns. However, he did not have enough room in the car to fit all of v-berth, salon, and cockpit cushions, so he tossed the crumbling and moldy foam and brought back just the fabric, which I will take apart with a seam ripper and use as stencils.
When I first looked into buying a sewing machine for the boat, I looked at a variety of brands and models. I spent the last two years taking an unofficial poll of every boater, canvas maker, and upholsterer whom I met of which machine they would recommend for my purposes. Resoundingly, the response was a Sailrite. Some folks said they loved their Pfaffs, Singers, and Janome, but none of these machines come with the technical support and customer service that Sailrite is known for.
In my late teens and early twenties, I made a lot of simple quilts and clothing. I had two machines that I really enjoyed using. One was a Singer, borrowed on extended loan from a friend's mother, and the other, a White, that stood stoically in its original oak cabinet collecting dust on my grandmother's breezeway most of the time. Both were antiques, made of metal, and had the ability to run with a foot switch. I loved this type of manual control; it is similar to the control one feels when using a potter's kick wheel. There is just something natural about building the momentum with physical force rather than relying on electrical current.
I tried a Sailrite at the Chicago Boat Show last year and was instantly enamored. The walking foot was strong yet controllable. The casing was metal and durable. The attachments, like the 1" binder, made quick work of sewing bindings, and made the daunting task of constructing new covers seem like a breeze. And, perhaps most important to me, with the Monster Wheel, I could use the machine without power.
Despite falling in love at first stitch, and wanting to splurge on the most expensive package, I took some time to determine which attachments I needed and which were just icing on the cake. I wanted to make sure that I could not "make do" with the much more affordable Basic package. Below is the breakdown of what you get with each package, including the price of the individual accessories and their functions.
LSZ-1 Machine – 110 V, 1.5 amp, 6mm max straight stitch, 5 mm max zigzag stitch, walking foot, 48 lbs, Power Plus Balance Wheel
Wooden Base – No carrying case
Deluxe Electric Foot Control
Set Up DVD, Catalog, 2 Year Warranty, Guidebook
Same as BASIC package plus the following accessories:
$179 – Deluxe Carrying Case
$19.95 – Integrated Thread Stand – designed so the thread stand can be stored on the machine ready to use.
$49.95 – LED Light –magnetic base with a 55"-long cord, 20 LED bulbs, 1 Watt
$4.75 – White Thread – V-92 White Polyester UV 1 oz. 250 yards – mildew and UV resistant thread perfect for sail and canvas use
Same as PLUS package plus the following accessories:
$119 – Monster II Balance Wheel – adds balanced weight for slow speed power and control, as well as allows you to hand crank to sew without electricity.
$39.95 – Reverse Stop and Lock Knob – locks the stitch length in place in either forward or reverse
$69 – 1" Swing Binder Attachment – guides and folds binding tape into place over the edge of fabric as you sew
$29.95 – Deluxe Magnetic Sewing Guide – 5.5" magnetic guide to ensure straight stitching
$33 – Left Roping Zipper Foot – helps for sewing straight stitching next to zippers
$15.95 – Kickstand – Supports the sewing machine when hinged back in its portable case, useful if you need access to the bottom of the machine.
$26.95 – Sewing Machine Needle Packs, Deluxe Seam Ripper, Double Sided Lint Brush
Here is how the savings breaks down for the different packages:
With the PLUS package you get $253.65 worth of accessories, making the savings $53.65 if you bought the BASIC and accessories separately.
With the PREMIUM package you get $587.45 worth of accessories, making the savings $87.45 if you bought the BASIC and accessories separately.
With the PREMIUM package you get $333.80 more accessories than with the PLUS package.
Our new Sailrite is now on its way, via UPS, to our doorstep. I will post a video blog next week when I open the box and set it up. I look forward to shopping for fabric next week. I plan to begin the sewing projects with the cockpit cushions, as they have the most regular shapes. Please help me out and comment below with links to your favorite fabric stores and foam suppliers.