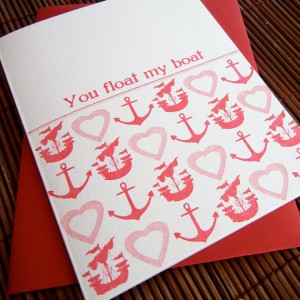 Looking for something sweet to get your favorite sailor for Valentine's Day? Check out this list of 14 thoughtful AND useful gifts that will make your honey feel loved! I know that I would prefer ANY of these gifts to a box of drugstore chocolates or wilting flowers. If you want to make a subtle hint, leave this open on your desktop 🙂

1. Amazon Kindle
– Rekindle the spark by reading her a romantic short story in the cockpit with this handy electronic reader. The non-glare "paperwhite" screen is perfect for reading on the beach, in the cockpit, or anywhere that the sun shines bright. Extra perks: the battery lasts for weeks and it can store thousands of books!
2. Skip the lingerie and buy your favorite lady sailor the more versatile and super sexy sarong
instead. This handy square of fabric can act as a skirt, a dress, a bathing suit cover-up, or a sexy nighty. Plus it stores and washes easily, and you don't even have to know her size. One size fits most.
3. Keep your sailor warm from the inside out with this red stainless steel Thermos
. Pour in coffee first thing in the morning and have hot coffee all day (no joke, I have one of these and absolutely love it!)
4. Nothing says "I love you" like a good dry bag! Check out this Phantom Dry Bag Backpack
in pink (in keeping with the holiday spirit!)
5. Keep your romance alive by reading about other sailing couples who have set sail for exotic and fascinating locales. Check out Orca
, a book about two young lovers who left from California to cross the Pacific in search of freedom and adventure aboard their 33′ sailboat.
6. Want to be able to gaze into his baby blues for years to come? Then protect those puppies with a good pair of Polarized Sunglasses
. These affordable though stylish shades will protect his eyes from harmful UVA and UVB rays and help him to see down into the water when he is dropping the hook 🙂
7. Everyone knows that the way to one's heart is through the stomach – so check out this awesome assortment of cheese
(specifically selected to be tasted with beer pairings!). Pick up a six pack of your favorite brew and lay out a romantic spread in the cockpit with your honey. Nothing says love like cheese.
8. I may not want a cheap box of Russell Stover's from Walgreens, but I would be thrilled to get this assorted box of Chocolate Liqueurs with Spirits
from my sweetheart. I am currently working my way through my second box of these. Not only are they delicious, but they are also the best potluck dish EVER!
9. If your partner likes her wine on the sweet side, treat her to the Sweetest Thing Wine Bundle
from Naked Winery. I love that their goal is is "to cut America's divorce rate in half by inviting couples to shut off the TV and share a glass of wine with each other nightly". If sweet wine is not your thing, they also offer a three bottle gift pack called Red Hot Trio
or Dinner for Two
mixed pack is you would like a red and a white. You will have to check out the names of their wines for yourself. (Disclosure: they are a little saucy!)
10. Instead of a picking out a fancy bracelet, why not give your love a wearable Wind Speed Meter and Race Watch
. This wickedly cool piece of "jewelry" also has a high-resolution altimeter, barometer, compass, yacht timer, and chronograph.
11. Some people say "put a ring on it", I say it you want to keep someone around to put a good PFD on them. Each time your sweetie puts this on, they will think of the loving gesture our this practical gift. In sticking with the season, check out this red PDF by Mustang
.
12. A pedicure and a foot rub would be a nice gesture this Valentine's Day, but a better way to ensure those toes are well-cared for and protected while on the water is in a good pair of deck shoes. Check out these pretty little red and white babies
from Helly Hansen. Include a handmade "gift card" for a foot rub in the box and you will have a happy sailor indeed!
13. A gift for yourself: A comfy v-berth is an inviting v-berth (hint, hint). Make yours more inviting (a.k.a. romantic) with a cool breeze from this awesome Windscoop
. This one-size-fits-most scoop is super easy to use, has nothing to install, and fits hatches up to 4′ wide.
14. What could say "I love you" more than the gift of learning how to sail? This is a link to an Amazon Local deal for the Midwest, but I bet that you can find one near you!