I have been gathering the materials and the gumption to make our cockpit cushions over the past few months. I now have all of the materials and tools and am ready to begin the process. I will be posting some videos to share the process in the coming weeks, but I thought I would put up a quick post today about the cost of this project.

There has been a lot of discussion on Cruisers Forum and the Facebook sailing groups recently about how much canvas makers charge. I am hoping that by sharing my hard numbers, it will give a good idea of the material cost that goes into making a new set of cushions and shed some light on the perceived high prices charged by professionals (which I am not).
I will be making the top and sides (top plate and boxes) of all of the cushions out of Sunbrella fabric. The bottom of each cushion will be made from underlining material, a lightweight, open-weave polyester fabric that is coated with vinyl, to allow for water drainage and air circulation. I will attempt to make custom piping by covering foam piping cord with remnants of the Sunbrella. This step will make the process longer, but I prefer the look of custom piping, rather than that of the pre-fab vinyl stuff.
I will start by giving you the sizes of our cockpit cushions. To make a comparative cost analysis, you will need to measure your cushions and add or subtract material charges based on size.
SV Bear, a Tayana 37, cockpit cushion configuration: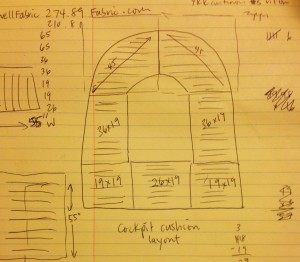 2 – 36 x 19 x 3
2 – 19 x 19 x 3
2 – quarter round x19 x 3
1 – 26 x 19 x 3
| | | |
| --- | --- | --- |
| Material | Size / Length / Amount | Price |
| Sunbrella Marisol Torqouise (fabric.com) | 6 yards (49.98 per yard) | 299.88 |
| Dryfast Foam(foambymail.com) | 1 Full Sheet 90 x 50 x 31 Half Sheet 50 x 45 x 3 | 189.70 |
| V-92 Polyester Thread | 4 oz | 13.95 |
| Cushion Underlining | 3 yards (6.95 per yard) | 20.85 |
| YKK Continuous Zipper | 15 feet | 9.00 |
| YKK Zipper Pulls | 10 | 3.00 |
| 3/8" Basting Tape | 50 yards | 8.95 |
| 5/32" Piping Cord | 60 feet | 5.40 |
| *Total Cost of Materials | | $550.73 USD |
*I should also mention that I bought a hot knife for cutting the fabric that cost $139.95.
Yowza! That is a big chunk of change! Now you can see why I am a bit trepidatious about beginning this project. I know that the old adage says Measure Twice, Cut Once, but I imagine I will be measuring more than that, perhaps even creating mock panels out of paper before I make my first slice into the Sunbrella.
I hope that this information is helpful to others as you consider having your cockpit cushions recovered or tackling a similar venture to mine. My next post will be about how I have modified the Sailrite box cockpit cushion patterns to better suit our boat, and, perhaps, my novice sewing skills.
Previous posts you might like: