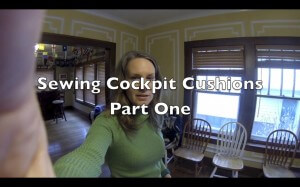 I have begun making the cockpit cushions and have put up two short videos on our YouTube Channel. You can check them out here:
Cockpit Cushions Part One – In this video I talk about making patterns for the cushion covers and begin cutting out fabric for the custom piping.
Cockpit Cushions Part Two – In this video I discuss the problems I had with my first piping covering measurements, show how to join together the piping strips, and show how I use binding tape to hold the piping cover in place before I sew it to the top plate of the cushion.
If you have experience with sewing cushions with piping, please leave a comment below and let me know if I am on the right track! Thanks!