We left Peoria mid-December to head to the Southeast for a couple of weeks of visiting friends and family, looking at boats, and going to the Bahamas for our charter in the Abacos. On the way to Jeff's parents we stopped in Georgia to look at a Southern Cross 31 and in Ft. Pierce to look at a Passport 42 and a Valiant 40 (click to see our reviews).

After spending a few days in North Port, and celebrating Christmas with Jeff's family, we headed to Miami. We arrived at the Quality Inn near the airport around 7 p.m. (which we selected for their awesome stay, park, and fly deal) and then took to the streets looking for a place to grab a drink. As it was Christmas Day, many establishments were closed, but we did find a bustling crowd at the Bayside Market Place. Over some Prosecco and MS brews we talked late into the evening about our future sailing plans, much of which we will surely document on this blog.
The next morning we caught the 7 a.m. shuttle to the airport and waited in a very long, slow-moving line at the Bahamasair counter. When we finally reached the desk over an hour later we were bumped from our 10:30 flight to the 8:40 flight. This was fine with us as it would give us more time to explore Nassau before flying to the Abacos.
After a quick puddle jump we landed in Nassau and were greeted at Customs by a band, who's happy tunes got us excited to get out and explore.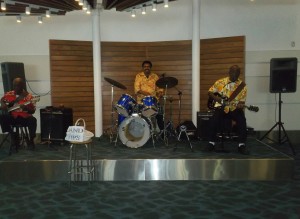 After we checked our bag for the next flight we asked a security worker if there was somewhere nearby we could walk to grab a drink. He said there was not much around but that we could head down the street to the Shell. As we had about 5 hours to kill we hoisted our heavy backpacks and headed out.
Outside of the airport we found taxis galore and roads without sidewalks. Along the way a few taxi drivers stopped and asked if we wanted a ride, but we decided we would rather walk than spend the big bucks on a ride. The Shell turned out to be a gas station, very similar to a rest stop you might find in a small town. Jeff asked the cashier how we might find a bus ride to Nassau and as it turned out, the guy standing next to him was a bus driver who just happened to be off of his normal route. He told us to come aboard, so we joined three other travelers – a mother and her college-age daughter and friend – who were in search of a "Margaritaville-type" experience (their words). We ended up getting a tour of the island before the driver stopped at a small, desolate resort, tied plastic bags around his new shoes, and showed the women into the resort. I hope they had a great time and found their own Senor Frogs, but somehow I doubt it. When he returned we told him we would like to head to Fish Fry – a place suggested by the airport security guy who directed us to the Shell.
When I saw the signs for Fish Fry I asked to stop and we paid the driver $2.50 each and were quickly on our way into a colorful plaza full of restaurants and bars.
We stopped at the first restaurant that said "fish fry," only later realizing that all of the joints here were fish fries, and joined the locals for some conch fritters and french fries. After this quick snack we walked around the area and searched for a place to get wi-fi, as we realized that we would not be able to get back to the airport very easily to meet our friends Sasha and David, who would be flying in around 1:30. We found a signal at another bar, grabbed some drinks, and sent a few emails.
With that task complete, we felt free to explore the city, and we walked about three miles along the north coast to downtown. Along the way we saw the port used by the behemoth cruise ships and the beach where most of the cruise ship passengers spend their time. It was touristy to say the least, with souvenir shops, expensive bars, and barely any locals, except those serving the drinks.
We wanted to get away from the cruise ship crowd and actually experience Nassau, so despite our wariness from carrying our heavy packs, we trekked on and are very glad we did. Within a few hundred yards of the tourist trap we stumbled upon our first Junkanoo participant.
Junkanoo is a parade that celebrates African dance, music, and costumes. It takes place on Boxing Day, December 26th and New Year's Day. We were delighted to stumble upon the parade, as it is the largest of Junkanoo in the Bahamas. Below are some images of the costumes, many of which were Asian themed. I wish I could share a recording of the music. Many of the musicians played handmade/homemade drums. The beats were infectious. Even Jeff was bopping about a bit! Unbelievably, there were almost no tourists along the parade route, yet there were three large cruise ships docked three blocks away.
After the parade concluded we wandered around the city a bit more and began to search for a bus that could take us back to the airport. We never imagined that this would be as difficult as it was! We waited by the tourist beach for over half an hour, watching numerous #10 buses go by. These are the city-center buses and there are many of them available. However, we needed a #12b and we were not seeing one. When we were about to give up (I had actually asked for a few quotes from passing taxis – $40-50 in case you ever end up in this situation), we finally saw the #12b, but the driver was not too keen on taking us out to the airport. He said it takes a lot of fuel and that we would need to drive into town and try to pick up more customers. After a short wait, the bus filled up and we were on our way.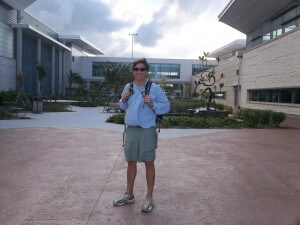 Back at the airport, we found our friends and enjoyed a quick snack before boarding the PROP plane for the Abacos. I do not like to fly and prop planes increase my anxiety 10 fold. Luckily it was a very brief, 35 minute flight, and the anticipation of being at our final destination kept me sane. Once we landed, I realized that the Abacos airport consisted of one room and an outdoor boarding area. The bags were slowly offloaded onto a cart and wheeled over to the waiting crowd. No conveyer belts – just a big pile of luggage and a bunch of eager tourists wanting to change into their swimming attire.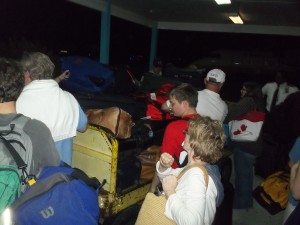 After we found our luggage a kind gentleman named James Williams asked if we were looking for a ride and we climbed aboard his giant SUV taxi heading to Marsh Harbor. We had reservations at The Conch Inn which turned out to be in a great location and had nicely appointed rooms. We were a bit leery of the hotel after having read some reviews online but weren't willing to change our plans as this was by far the cheapest place to stay in the area. I would highly recommend The Conch Inn if you are passing through Marsh Harbor. It was right on the water, Diva Abaco and the Moorings were on the premises, and it was surrounded by bars, restaurants, and shops. It was also, as we would find out later in the week, walking distance from the large grocery and liquor stores. Major bonus!
After settling in we walked over to Snappas for dinner, a divey-looking bar on the water, about four doors down from the inn. Much to our surprise our waitress informed us that they were out of fish. Out of fish?! How does that happen at an island restaurant on the water? After a brief discussion we decided to stay and sample the variety of rum drinks and harass the young waitress with questions about Brazilian Butt Lifts, which are all the rage in Miami, according to the billboards there.