For our non-sailor readers, a shakedown cruise is the term for the first time you take the boat out for a sail. As the term implies, it is a time to shake out all of the kinks in the systems and determine what components may still need work or upgrading. We spent the last 10 days getting ready for our shakedown cruise, which took us across the Long Island Sound from Branford, CT to Port Jefferson, NY. At 19 miles from point to point, the transit took us just over 6 hours, with roughly half of that time under sail. It was a beautiful, but chilly day, to be on the water, with winds between 4-13 MPH, though they were unfortunately not in our favor. We had to tack (zigzag across the water) in order to sail, which dramatically increased our "ground covered" and, therefore, our time on the water.
Before I get too far into the story of our transit, let me tell you about some of the crazy antics that happened in the few days prior to our departure.

1. We had to change the head. As you may have read about in a previous post, our surveyor decided that we should have the head pump rebuilt. When we had the previous owner aboard to show us a few things about Bear, he took a look at the toilet, fixed it, and then asked if we would like to split the cost with him to replace the entire head. This was a no brainer – a new head vs. a rebuilt pump?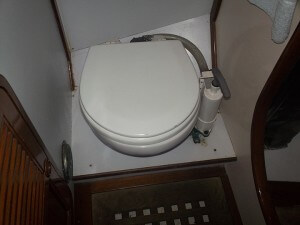 While Jeff began removing the head, I continued to clean the boat, working through each locker, drawer, and cabinet.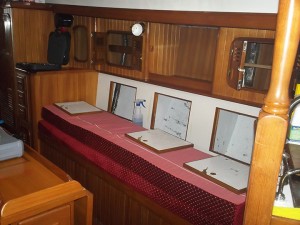 Below, Jeff gets intimately involved with our old head.
Six hours later, after he had removed and replaced the head six times, he was finally able to get the head to work properly, i.e. without leaks!
2. Meanwhile, I was visiting the dentist. Ugh! I had a filling replaced a couple of weeks ago in Peoria, and since then, my left upper teeth have been bothering me. So I called Norman Dahl, a local dentist in Branford, and asked him to take a look before we cast off the lines. I wanted to be sure I did not have an abscess or need a root canal. Luckily, it was not too serious, but I did need have two cracked teeth that needed old fillings replaced. Not fun. But better safe that sorry and, once Norman found out that I was a fellow sailor, he made space in his schedule for me that afternoon. If you ever find yourself in Branford with a dental emergency, this is the guy to call!
3. Later that day, we tried to put the newly shortened anchor chain back into the anchor locker and came to the conclusion that we were not comfortable with the chain. Since removing the very rusted and worn links near the center point, we were left with only 95′, some of which still had a couple of questionable sections. Without buying new anchor line that would be supple enough for us to splice onto the chain, their was no sufficiently strong means of attaching the line to the chain that would also be able to fit through the hawse pipe which feeds the chain down to the locker. So, we bit the bullet, and coughed up another Grover Cleveland at Defender, and refit our bowsprit with a lovely new 200′ chain.
Early Friday morning, a day normally considered unlucky for departure, we prepared to cast the lines.
With Jeff in charge of the lines, and me at the helm, we set sail around 9 AM. Though I was nervous to take the helm, Bear has a great turning radius and a powerful engine, which helped us swing easily and safely away from the dock and other boats tied up nearby.
The river is lined with marinas, including the Dutch Wharf Marina, which specializes in wooden boat repair and housed may beautiful boats.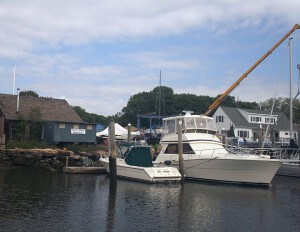 If we were not able to negotiate a good price on Bear, this was my next choice….haha!
As the winds began to pick up from 2-3 to 6-8 knots, we decided to put up the main and the genoa. We worked together to remove the sail cover and ties and then Jeff used the winch to raise the sail into place. I, sadly, have realized that I need to begin rowing the dingy daily if I am ever going to get strong enough to work our winches!
Just a few minutes after the last image, we found a great spot amongst the moorings to drop our hook. Aside from the rocking and rolling caused by the ferry every 30 minutes, we choose a beautiful spot. There were about 30 other boats in the anchorage of various sizes and shapes, many taking advantage of the water taxis provided by the Setauket Yacht Club and Danford's Marina.
After such a lovely sail, we were sorely disappointed to find that our water pump was not working properly. The faucets were burping water and the diaphragm of the pump was allowing water to spit out. This was most upsetting because we both desperately needed to shower. It had already been a few days since our last real washing and we were feeling pretty gross. We were both looking forward to a hot shower as a cap to a great day aboard Bear, but alas, this was not in the cards.
To add insult to injury, the refrigerator was also on the fritz (hopefully, just a loose electrical connection) and we could not find a way to rig a good anchor snubber. After a long 10 days of repairs and cleaning, we were SO looking forward to a relaxing evening in this new port. Instead, we had to tear apart the lazarette to get to the water pump hoses, search through all of the spares and tools, and ultimately, pass out without a shower.
As a consolation prize, I made pasta primevera while Jeff cleaned up the decks, and put away the tools.