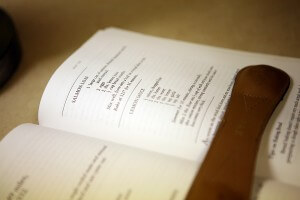 While reading Lin Pardey's Care and Feeding
, one recipe in particular caught my attention: the salmon loaf. I am a sucker for canned fish, and I have experimented enough with canned salmon to have created a few meals I like. But what really caught my attention in Lin's book was that her recipe suggested you could substitute canned mackerel (she even served up that delicacy later in the voyage). I just so happened to have a can of mackerel that had been kicking around in the cabinet long enough to have made the move from Arkansas to Illinois with me. Not only was I fixing (since I just mentioned Arkansas, I couldn't help myself) to use it, but I thought that this delicacy could surely be a new favorite of mine. After all, throughout Care and Feeding Lin repeatedly makes the point that Larry and her always look on meal times at sea as the best part of the day, breaking up the monotony, giving them some time together, and allowing them to enjoy a tasty repast. Since they had been sailing so happily together for so long, I thought that certainly her recipes were to be trusted. For those of you who are familiar with the book, you know I was ignoring voluminous evidence to the contrary, though, mainly in the form of the actual recipes she presents, which all sound rather dull and unappetizing. But I have enjoyed a circumnavigation and braved many storms vicariously through the Pardeys, so my faith in Lin's ability in the galley blinded me to the culinary facts on the page.
About noon today, I mentioned to Margaret that I might be trying one of the recipes from the book for lunch. She immediately suggested we document it for the blog. In hindsight, I think Margaret may have been thinking this would be a good way to protect our one loyal reader (and thereby continue to give us a reason to maintain the site) from accidentally experimenting with the mackerel loaf on his own. For my part, I thought it was a fine idea to go along with her recent review of Care and Feeding and share what was sure to be a gastronomic treat.
While Margaret ran to get her camera, I started gathering the ingredients. After getting the two eggs, breadcrumbs, lemon juice, and can of mackerel together, it started to dawn on me that this concoction of Lin's, despite her dedication to The Joy of Cooking, was not too promising. So, I added garlic and onions, a reasonable and usually appetizing supplement to any recipe.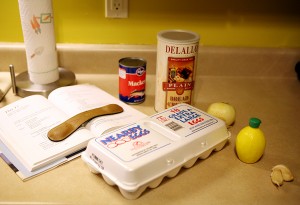 The preparation was all very easy and straightforward; I just put everything in the mixing bowl and used a fork to combine it together.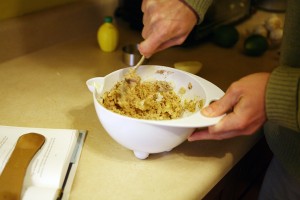 The only thing I will recommend to the novice – having learned this from my work with canned salmon – is to look for and remove any spinal bones in the fish before adding it to the other ingredients.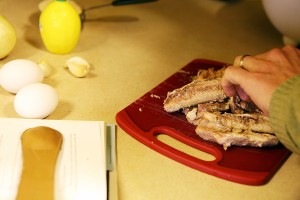 I then molded it into a "loaf," put it on some tinfoil, and popped the whole tray into the oven, which I already had preheated to 325 degrees.
I should say that by this time, I had become a little concerned about the outcome. The thing looked unappetizing, and it smelled a bit worse, even to a man of my piscatorial proclivities. As the minutes ticked by and the kitchen started to take on the aroma of cat food, I became more concerned. Fortunately, with about five minutes left, I caught a hint of garlic in the air and allowed it to rekindle my optimism.
As you can see, after taking it out of the oven and cutting off a chunk, I bravely took a bite of it.
I then promptly finished off the slice I had served myself, thoroughly disgusting Margaret. It was not exactly good, but it was garlicky. I ended up snacking on the two remaining pieces later in the day, making a sandwich with voluminous amounts of Sriracha, which, unlike garlic, really does make everything taste good.
Final assessment: I won't be making this recipe again. However, if you ever run into the Pardeys in some anchorage and they invite you over for lunch, don't pass up the chance to spend some time with them out of fear of the mackerel loaf. Instead, just bring a bottle of Sriracha over.
Lin's Salmon Loaf Recipe

2 eggs
2 tablespoons lemon juice
½ cup breadcrumbs
1 large can of salmon (can substitute mackerel)
Mix everything together and then form into a loaf on a baking sheet or tin. Bake in the oven at 325 degrees for 35 minutes.
My additions: ½ onion finely chopped and 3 cloves of garlic minced