As a visual artist who has traveled the world visiting galleries and museum I often feel like I have 'seen it all'. It takes a lot to impress, intrigue, and/or shock me. But when I stepped off of the rickety ladder onto the deck of Equinox in the Harbour Marina Boat Yard I could not hold back from shouting "Holy Jesus!"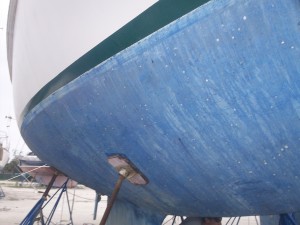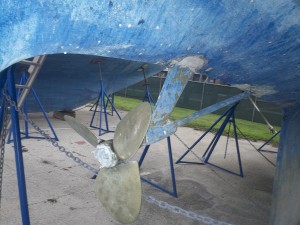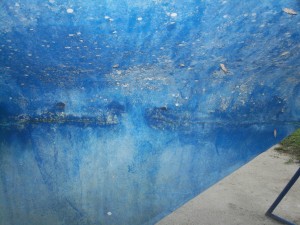 Even though the hull of the vessel was pocked with blisters and the keel was separating from the hull I was not expecting to find the topsides in such bad disrepair.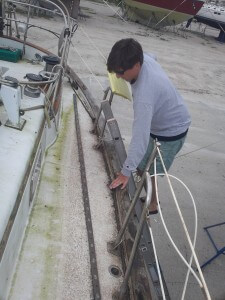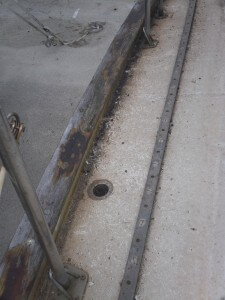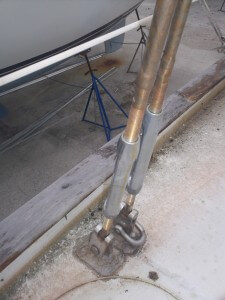 Despite the horrible smell that wafted up the companionway when we slid open the hatch, we decided to venture below for the sake of our "readership." We wouldn't want to miss sharing this special vessel with you!
As you may know from our previous Valiant review, I really like the layout of this design. At the bottom of the stair is an aft cabin to port and a nice set of lockers to port. Unfortunately, these, like most surfaces below, were covered in mildew and mold.
One of the more interesting features of Equinox was the custom-made storage devices, including those pictured below, in the aft lockers. These slide out bins would be great for canned goods and other provisions.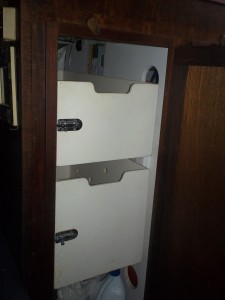 Forward of the lockers you will find the navigation station.
Across from the nav station is the spacious galley.
Continuing forward you will find the salon with a fold-down table attached to the port bulkhead. Apparently I took very few pictures of the salon because I was so distracted by the condition of the chainplates (and perhaps the odor!)
The head is to port moving toward the bow with nice big lockers for storage to starboard.
Finally, the v-berth is in the bow. This one was too cluttered to really inspect.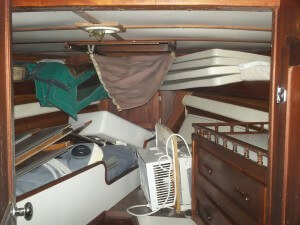 But I imagine I would find more storage spaces filled with junk as I did in the image below.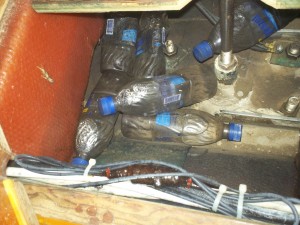 After a combined eight minutes aboard, Jeff and I quickly retreated to our car, where we bathed ourselves in hand sanitizer and debated why Valiant boats can command such high prices when the few we have seen have been in such poor condition. Just for the record, the Yachtworld.com ad calls this a phenomenal yacht.
Jeff's Thoughts:
The only thing I have to add is that when we set out that morning, Margaret had told me she thought one of the boats today – one that she had already identified but would not share with me – was going to be the boat we ended up buying. After the day was over, she admitted she had thought Equinox was going to be that boat. Dear reader, it is most definitely not.
A few images from the Yachtworld ad: