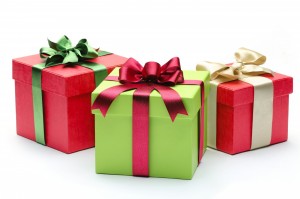 Hello Subscribers! It has been WAY too long since I have written on our blog, so I thought I would try to get back in the swing of things with a holiday-inspired post. Last year we created a wishlist for sailors that went viral. Today, just in time for the biggest shopping weekend of the year, I present to you my 2015 Great Gifts for Sailors list! There is a little something for everyone – the weekend sailor, the cruising couple, racers, liveaboards, etc. And don't forget the stocking stuffers!

1. Turkish Towels – These big, sarong size towels serve more than double duty on any boat. Used as a towel or an article of clothing, these thin, large towels are super absorbant yet dry lightning fast! They pack small and travel well. You will never go back to terry cloth towels again!
2. Bushnell NatureView Waterproof/Fogproof Binoculars – For navigational purposes or to spy an beautiful bird in the marsh, these glasses are waterproof and fogproof, which makes them perfect for the cockpit. And at this price, you can buy a pair for everyone aboard! After checking these out at the boat show, we have two pairs on our Christmas list.
3. Nikon Laser Range Finder – Ever argue with your partner about how far you are from another boat or shore while anchoring? With this handy laser range finder you can set the hook with confidence, knowing that you won't swing into anything if the wind shifts at 2 AM!
4. ResQLink Personal Locator Beacon – Safety first! Every sailor should have a PLB attached to their life jacket. Deploying one of these devices significantly increases the chance that you will be recovered from the water should you fall in during a rough passage. This gift is worth every penny!
5. QuickGrip Handle – Have you ever needed to scrub the waterline of your boat? If you have, then you know it is not an easy, nor fun, job. This inexpensive tool will help you get a grip on the chore.
6. Dream Cruising Destinations – This book explores and maps 24 classic cruising routes and destinations. This book is full of planning information and beautiful pictures. Dream a little dream!
7. Tone Generator and Amplifier Probe Circuit Finder – If your boat is like ours we have thousands of unmarked wires leading to a control panel. This tool will help you trace currents and locate the wires that you need in a jiffy. And thanks to the folks on Christmas Song for letting us know such a great tool exists!
8. Sailing Boots – These are really cute sailing boots at a great price. That is all!
9. Reef Safe / Ocean Safe Biodegradable Sunblock – Help save the oceans and reefs with this simple change to your sunblock. Normal sunscreens contain chemicals that cause reef bleaching. Help safe our planet and your skin with a reef safe sunblock!
10. Portable Solar Powered Lights – If you are like us, we are always looking for ways to conserve our battery power aboard Bear. These inflatable, solar powered light, are compact for easy storage and let you enjoy a soft romantic glow in the cockpit or the salon. At this price, get a few!
11. Waterproof Flashlight Set – I am convinced that there is no such thing as too many flashings on the boat. These compact flashlights pack powerful LED lights and last extremely long with their low energy draw. They have a handy loop on the end that you can clip to a lanyard. And, the two-packs come in his and hers colors!
And don't forget a few fun stocking stuffers:
Rigging Knife – This tool has a marlin spike for working out tough knots, a shackle key for loosening those pesky shackles, a screwdriver and a knife. This is the one tool no sailor should be without and the one we keep at hand on Bear!
Sailing Gloves – You always needs a few extra pairs of sailing gloves aboard for guests…and when you replace your regular ones. But these sweet Harken ones just might become your go-to pair.
Polarizing Sunglasses – Jeff has been wearing these sunglasses for years. He always has a few backups just in case the dink takes a pair. He recommends the black frames with the smoke lenses. If you want to see how they look, Jeff is wearing them in this YouTube video: ICW South to North: Price Bend to Georgetown
Short Course in Rum – A Guide to Tasting and Talking About Rum – Any sailor worth her weight in salt should be able to discuss the difference between white, dark, spiced, and aged rum. This book will help you learn the basic vocabulary and impress your friends when you make the next round of sundowners.
Universal Deck Fill Key – One time we lost our deck key and tried everything under the sun to open our holding tank deck fill cap. We were desperately in need of a pump out. We hope that you will never allow this to happen to your friends or family.
Additional posts you may like:
Best Sailing and Cruising Books of 2014
100 things to do on a boat
Valentine's Day Gifts For Sailors
False Gods Along the ICW