I woke up this morning at 7 a.m. (many of my friends are in shock and disbelief right now), and grabbed some juice and headed on deck to check out the anchorage. The rest of the crew was discussing an issue they were having with the outlets onboard and their inability to charge their phones, cameras, etc.. I wasn't too concerned about most of our toys but did want to be able to charge our handheld VHF, which was our way to call each other when on shore and reach out to other boaters, the charter company, and area businesses when we were away from the boat. We hailed Mark who talked us through a few possible issues with the inverter and batteries, but when we couldn't determine the problem we decided we would deal with it later. While Jeff pumped up the dingy, Sasha and I whipped up a yummy breakfast hash.


With full bellies we hopped in the dingy and took off for Man-o-war Cay. It was a bit of a wet dingy ride as we tried to zip around the NW point of the western island only to find that low tide made the route impassable. After watching one of the dive boats make their way through an unmarked channel, we looped back around to follow their wake. Along the way we spotted beautiful sea life, including giant starfish, just inches away from us in the crystal clear water.
We tied up at Albury's Sail Shop where we perused the aisles in search of holiday gifts. Four crafty sewers worked in the shop, producing a myriad of products, from bags to placemats, in bright colors and marine-inspired patterns. The shop had a little something for everyone and we vowed to return after exploring the island to make a purchase for one of our lucky relatives!
Along Sea Road we found a few gift and souvenir shops, a grocer, a boat yard, and a hardware store. As we ventured off of the beaten path we found a quaint island community with well-maintained homes painted in a plethora of pastel colors. Garish Christmas décor embellished many homes and churches. The island is home to a very strong religious community, which we noted, has strict laws against alcohol sales.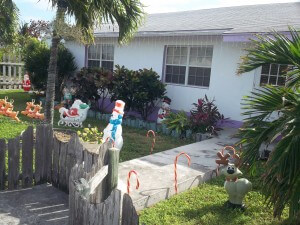 We walked across the island to view the ocean, along the way finding a great baseball park – what a view! – and the local cemetery. Many friendly people waved as they passed by in the islands standard vehicle – the golf cart. At the north most end of Queen's Highway we found the local dive shop. Here Sasha and David talked with the owner about the weather and the potential for a diving trip in the next couple days.
After a quick stop at the local grocery store for some snacks we stopped at the Sail Shop to grab a few gifts before jumping in the dingy and heading back to Spontaneity. All that walking had helped us work up a healthy appetite and we had the prefect fix – Avocados!!!!
Over a quick lunch of tacos we had a chart meeting to discuss our sailing plans. Because the winds were clocking around to the S-SE and picking up force, we needed to choose a protected anchorage. We had previously planned to go to Great Guana Cay after Man-o-War, but decided instead to head to Marsh Harbour, which when we arrived, slowly filled with other boats seeking refuge from the winds. We took the dingy over to Mangoes for another great meal and some really good Painkillers!