As I mentioned in our previous post about the Strictly Sail show in Chicago last weekend, Lin Pardey's seminar on Cutting Costs While Cruising (derived from the fabulous book Cost Conscious Cruiser
) was the most informative and well presented seminar I attended. I took some very thorough notes which I will share, along with some of my own ideas, in a two part series about how to save and cut costs along the way.

Lin began with a list of four things she thinks help determine how much you will spend while cruising. This is an important list as no two cruisers will do things exactly the same. Therefore, there is no easy way to calculate a budget or answer the often asked question "how much does it cost to cruise"?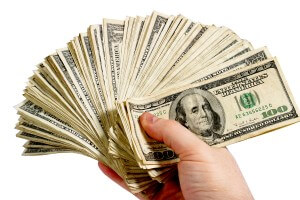 1) Length of Vessel and Systems – what will it cost you to clear into new countries? Will you have radar, AIS, SSB, or other electronics? What type of sails will you carry?
2) What kind of cruising will you do? -what type of entertainment will you want – museums and shows, fancy restaurants, eating aboard and playing card? -how many and what type of repairs are you willing to do yourself?
3) How much and what kind of contact will you have with friends and family back home? –will you fly home often? will you carry a SAT phone? Pactor Modem?
4) Will you work along the way or save up to go? -do you have a skill that can travel? Do you know diesel engines, marine plumbing, or rigging? Are you a writer or IT specialist that can work remotely?
The length of the vessel directly will play a major role in how much you spend when you cruise, not only in the initial investment in the boat, but in the annual upkeep of the systems. As you can imagine, larger boats require larger sails, more length of electrical wiring, longer lines and stays, etc. and the price increases exponentially as the sizes grow.
• Larger vessels cost more in marinas as cost is determined by length.
• Some countries charge a higher price for cruising permits, entry fees, clearing in fees based on the size of your vessel. For example, in the Bahamas any boat over 31' will pay $300, whereas boats under that length will pay only $150. (Information from www.noonsite.com 1/29/14)
•Keep systems separate so that if you have a problem in one area of the boat it will not affect another and you can still cruise. Determine early on what systems are needed to continue cruising and what are luxuries. Consider the emotional cost of constantly changing plans to make repairs. Lin despises the thought that cruising is nothing more than fixing your boat in exotic locations. To this end, she and Larry would plan to do repairs once a year in a location that was affordable and where they could get work. Lin mentioned that they learned this technique from the great sailor Herb Payson used to use post-it notes with "screw it" written on them to mark items that were broken along the way.
• Choose easy to maintain sails. Consider a mainsail with no battens, as battens cause chafe and this will shorten the life of the sail.
• Restitch sails early. Check them every 6 months for sunburn. Restitching costs about $150 a year. This is a fraction of the price of a new mainsail.
• Cover your sails whenever possible. If you will be in at anchor or at a dock for more than 4 hours, put on your sail covers.
• Choose dark colored sail covers. Dark colors resist UV rays better than light colors.
• Avoid white nylon sails as these sunburn at 4x's the rate of other colors
• Learn to maintain your own sails by taking a course – stitch them by hand when needed. Lin does not recommend carrying a sewing machine on board for sail repairs.
• Have good light air sails, including a spinnaker and a drifter, as these sails will get you going in light air, therefore reducing engine hours and saving on fuel costs. These are also made of nylon and are therefore light enough for even the weaker of the crew members to hoist on their own.
Anchor – Dingy – Shower
• Buy an anchor and ground tackle that you trust. If you do this, you will spend more time anchored out rather than in marinas or on moorings.
• Get a good dingy that all crew can control. If you have a good way to get to shore you won't mind anchoring out.
• Consider investing in a second way to get to shore, such as an inflatable kayak, so that the other crew can leave the boat and accomplish two different tasks when needed.
• Install a great shower that is easy to use. Most cruisers spend a significant sum on marina fees just to have access to a good shower. If you have one on the boat, you will save a ton of money. Be sure to make it easy to use so that you don't dread having to clean up after each shower.
Boat Insurance
• Most offshore voyaging insurance will have a premium of 2-3% of the value of the boat. Consider self-insuring by putting away that money each year and giving yourself a $500 deductible before tapping into those funds.
• Consider having insurance only when coastal cruising as this is when you will be surrounded by more vessels and be closer to rocky shores! Coastal insurance usually covers the boat within 60 miles of shore at about 0.7% the value of the boat.
• Decide what the value of the boat is to you. Do you need the full replacement value or will $20,000 be enough to give you piece of mind?
Cutting Cost and Saving Money Part Two will discuss health insurance, provisioning, maintaining contact with friends and family, haul-outs, and cruising as a solo boat vs. sailing as part of a rally.
Add www.returntoseasons.com to your RSS reader or "like" us on Facebook to get notifications of our new posts!