We woke up the next morning and decided that we would head back to Fells Point for breakfast. Vicki had done a little internet sleuthing and suggested that we try Lucia's diner. As we meandered through this quaint neighborhood, we saw lots of great bars and shops that we added to our must-see list, including a rum bar, a bar with two dozen bitters, and a beer car.
Lucia's Joann Kitchen turned out to be a counter-style restaurant, located in the Broadway Market. Competing with others similar breakfast and lunch only outfits, Lucia's shtick was American Breakfast with a Korean twist. On the menu, along side pancakes and homefries, you will find bibimbap, a noodle and veggie dish with lots of flavor. The portions were huge and the prices were fairly inexpensive, though Vicki did splurge and add chocolate chips to her pancakes for $1.50.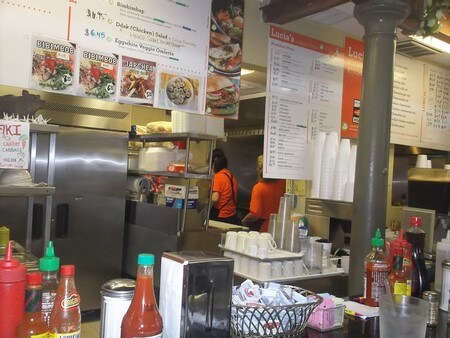 While the food was good at Lucia's, the patrons and waitstaff were far more interesting. While sitting at the counter Vicki chatted up a couple of local police officers, who were happy to share info about the city and their favorite haunts. After they left, Barb sat down next to Vicki and shared quite a few stories about growing up in the area and how she came to Lucia's every morning for breakfast. Her story was a sad one, that involved the untimely passing of her spouse, who's picture was on the wall behind the counter. She said she came her every morning to enjoy a meal with him. In fact, she ended up coming there so often, that they named a meal after her.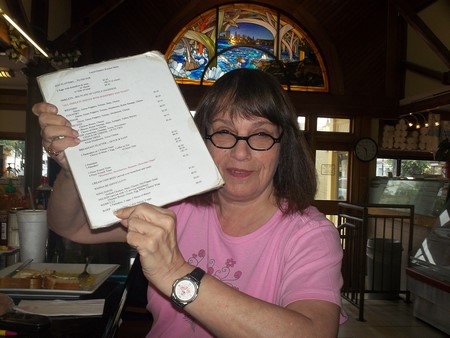 Barb was waiting for a friend to join her for breakfast, so we hung out and waited with her. During this time, she and Vicki chatted like long lost friends, with the occasional hint of motherly advice from Barb.
As the hour was getting late, and we had not yet made plans for the day, we decided to head over to Daily Grind, the local coffee shop, where we could sit and discuss travel plans. Vicki was trying to decide if she wanted to leave Baltimore that day and travel to DC or go sailing with us to Annapolis. While Vicki grappled with her decision, Jeff went to the Fells Point Visitor Center and chatted up the staff about Frederick Douglas. He was happy to learn where Douglas lived, went to church, and most important, where the ship yard was that he had worked at, which turned out to be just across the street.
After sorting out plans with her friends, and determining that there was a bus from Annapolis to DC, which ran once a day around 8 pm, we headed back to Bear to get underway.